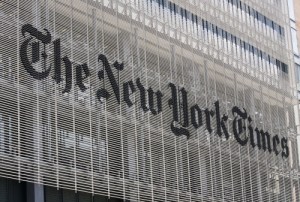 Rebecca Corbett has been promoted to senior enterprise editor at the Times. Ms. Corbett was the deputy bureau chief in Washington.
"For those of you who do not know her, Rebecca is one of our finest journalists," said an email announcement that just went out to staff. "She has a remarkable ability to move between the most writerly pieces and  hard-hitting investigative work, and she commands tremendous loyalty from the reporters she works with."
Ms. Corbett will work from New York and Washington and will work on "a newsroom-wide portfolio, working on stories and projects that involve multiple departments, those that fall between departmental boundaries and those in need of special attention," the memo explained. She will also occasionally edit for the magazine.
Full memo below:
To the Staff,

Rebecca Corbett, currently deputy bureau chief in Washington, will become The Times's senior enterprise editor, effective immediately.

While Rebecca will continue to do some enterprise in Washington, she will take on a newsroom-wide portfolio, working on stories and projects that involve multiple departments, those that fall between departmental boundaries and those in need of special attention. She will also occasionally edit articles for the magazine. Rebecca will work from New York and Washington and report to the managing editor.

For those of you who do not know her, Rebecca is one of our finest journalists. From the Pulitzer Prize-winning investigation of the National Security Agency's warrantless wiretapping program to the Long Run political biographies, from WikiLeaks to the first lady's slave ancestors, she has been involved in some of The Times's most memorable enterprise and narratives. She has a remarkable ability to move between the most writerly pieces and  hard-hitting investigative work, and she commands tremendous loyalty from the reporters she works with.

Much of our most outstanding enterprise, of course, comes from the departments and our powerhouse investigative team, and that  will continue to be the case. Rebecca will help augment our enterprise resources in a targeted fashion and help lead stories that cut across the lines.

Jill, Dean and David