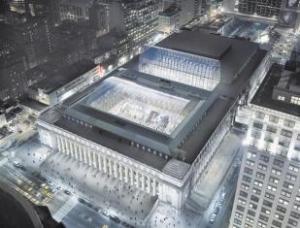 The planned conversion of the Beaux-Arts Farley Post Office on Eighth Avenue into Amtrak's "Moynihan Station" has always been more about real estate and architecture than transportation, spurred by the city's desperate search for atonement after the destruction of the old Penn Station. Former Amtrak President David Gunn didn't mince words when he told Bloomberg News in 2011 that the project is "controlled by a bunch of rich developers."
And Related Companies doesn't seem to be doing anything to disabuse us of that notion. The New York Times reported that Stephen Ross has yet another trick up his sleeve to revive the stalled project: he wants the Borough of Manhattan Community College to move into Moynihan Station.
But Related isn't just looking for an anchor tenant for Moynihan—it also wants BMCC's land in Tribeca.
"Under the proposal by the developer," The Times writes, "the community college would move 3.8 miles north of its current location downtown to 1.1 million square feet of space in the post office building," where it would serve as the would-be complex's anchor tenant.
This would be an upgrade from BMCC's 780,000 square feet between Chambers Street and North Moore Street fronting on West Street, but this extra space would be dwarfed by Related's haul, should the plan pan out: BMCC's site sits on nearly a quarter of a million square feet of land, the majority of which has an unimpeded view of the Hudson River. With a 20 percent bonus for affordable housing or a public plaza, the current zoning would allow the site's owners to build 2.7 million square feet of space—slightly larger than 4 WTC, as a comparison.
Related may be able to count on the support of New York's civic elite, who are eager to see Moynihan Station come to life—Robert Yaro of the Regional Plan Association seemed to endorse the deal if it would get Moynihan back on track—but BMCC doesn't appear to have much interest in the project, especially since it would mean leaving their $325 million, newly-built Fiterman Hall. Plus, there's a slight legal barrier to overcome: "It was also unclear how the school could legally swap the land without going through an auction," The Times writes. Unnamed "government officials" told The Times that Related should stick to retail and office tenants, suggesting Google as a possibility.
But Mr. Ross remains undeterred, and Related is reportedly taking the issue directly to Governor Andrew Cuomo, perhaps seeking to appeal to his edifice complex.
ssmith@observer.com