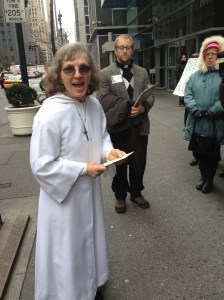 A group of religious leaders are hoping divine intervention will force Governor Andrew Cuomo to ban the controversial natural gas drilling procedure known as hydrofracking in New York State. Today at noon, an interfaith group of around 15 religious figures gathered outside the governor's office in Midtown Manhattan for an anti-fracking pray-in. With parkas draped over their ritual garb for warmth, the leaders adamantly spoke out against the controversial drilling process and invoked biblical imagery in their quest to convert the as-yet-undecided governor.
"When God created Adam and Eve, God led them by the hand around the garden of Eden," preached Rabbi Marc Katz, of Congregation Beth Elohim. "We too have a garden: a beautiful, thriving Eden. Every time we pump chemicals into our water supply, every time we drill without knowing the consequences, we bring our garden closer to destruction."
Christian leaders, like Episcopalian minister Catherine Skopic, also echoed the rabbi's fears that fracking could destroy the "thriving Eden" that God created.
"Fracking has been proven to be destructive to creation, as shown by scientific data and experienced by all those in the 34 states and the countries where fracking has been allowed," Ms. Skopic said. "Fracking destroys people's health. It poisons water, land, and air. Governor Cuomo, we ask you to stand up for New York. We ask you to stand up for life. We ask you to ban fracking now."
And just in case the prayers weren't enough, the pray-in participants also delivered a letter, signed by 300 New York faith leaders, that urged the governor to see the light, shall we say, in the controversial debate.
As of now, Governor Cuomo is expected to take an official stance on fracking on Feb. 27. However, the governor's decision on drilling has been delayed in the past. Ultimately, the governor will have to decide if the health and environmental risks of hydrofracking outweigh the process' potential economic benefits.
For the anti-fracking faith leaders, even if they are unable to stop the controversial drilling procedure in New York, some of those in attendance were glad to see the pray-in as an opportunity to unite members of different religions around a common goal.
"One of the important things that comes of this is that we see that all faith traditions are involved in this issue and are dedicated to this issue," said Brother Ken Holman, a Jesuit. "It is at the root of all of our faiths—is to protect, preserve, and to love creation."