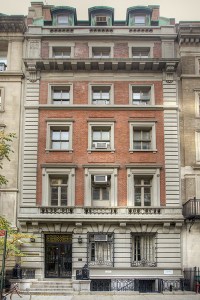 How do you sell a $24.5 million Upper East Side townhouse? Try starting with a lawsuit, asking too much, churning through brokers, dropping the price, then pulling the property off the market. But hey, it worked! The Albert Ellis Institute has found a buyer!
As far as sales techniques go, the Albert Ellis Institute's methods could be described as erratic, eccentric, maybe even distraught. And as with so many other troubled children, the psychotherapy training institute's real estate problems can be traced back to its father figure, Albert Ellis, who both founded the Institute and donated his townhouse at 45 East 65th Street to it. While the acquisition of the house remains a matter of some dispute, its disposition became a matter of even more controversy when Ellis tried to take the property back to help cover his late-in-life medical expenses. After a lengthy legal battle that spanned the last years of Mr. Ellis's life and a few years after his death, his estate and the Institute settled amicably, and the Institute listed the townhouse for $29 million.
But like so many attempts to leave the past behind, this process proved arduous and slow going, with stops and starts and times when it seemed like nothing would work. After listing the property for $29 million with Colliers International back in 2010, the Institute struggled to find a buyer (it wasn't the best time to sell a 13,000 square foot mansion, especially one in need of a massive renovation to turn it back into a single-family mansion). In June of 2011, the price dropped to $25 million and then, ten days later, soared back to $29 million. A month and a half later, it tried $25.9 million before, in despair, fleeing into the arms of a new brokerage.
Brown Harris Stevens brokers Paula Del Nunzio and Elizabeth Sierzega took on the listing, agreeing to raise the price all the way back to $29.75 million (the institute was apparently unwilling to let go of the vision it had of itself as a $29 million mansion). Despite being 28-feet wide, with a beautiful neo-Georgian limestone and brick exterior designed by architects Frances L.V. Hoppin and Terrence A. Koen, all the confidence and self-esteem in the world wouldn't bring in $29 million. The house dropped its price several times before departing from the market at $24.5 million in June.
Ms. Del Nunzio talked about the house's illustrious history when we reached her on the phone, but described the interior of the house as lacking original details. "They put up walls where they needed to," she explained.
Ms. Del Nunzio also confirmed that the house was no longer listed with her or Ms. Sierzega.
Another broker sniffed at even the much-reduced $24.5 million ask. "I'm doubtful that they even got $20 million," said the broker. Besides requiring an interior makeover, the next buyer will need to wait until the Ellis Institute finds a new home and moves out, what's known as a delayed sale.
The Institute did not respond to a request for comment on the pending sale. Doctor patient confidentiality?
kvelsey@observer.com