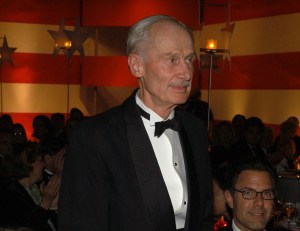 Richard Artschwager, who crafted a protean and enigmatic body of work over the course of more than half a century, has died. He was 89. David Nolan Gallery and Gagosian Gallery, which both presented his work in New York, confirmed his death.
Given Mr. Artschwager's thrillingly diverse output, it's difficult to pin his fame to any particular series. He made haunting grayscale paintings, often of domestic scenes and architecture, on textured Celotex and sculptures with Formica—"the great ugly material," he said of the stuff—and wood that often resembled functional objects like pianos, chairs and tables, betraying the artist's work as a furniture maker in the 1950s. But he also made curious little pieces that he called "blps," knockwurst-shaped works that he sometimes installed throughout the city. All the while, he handily sidestepped the reigning art movements of the day, indulging elements of Minimalism (in his sculptures) and Pop art (in his paintings) while playfully ignoring their strictures.
Just a week ago, a major retrospective of his work—titled "Richard Artschwager!"—ended its run at the Whitney Museum. As part of the show, "blps" were installed throughout West Chelsea, where the Whitney will open its new museum in 2015. The show was his second career-spanning show at the museum, and will travel to the Hammer Museum in Los Angeles later this year.
He had major shows at Paris's Centre Pompidou in 1989, Vienna's MAK in 2002 and the Deutsche Guggenheim in 2003, and made multiple appearances in numerous important international exhibitions, like the Venice Biennale and Documenta, in Kassel, Germany, which he was featured in an astounding five times.
Richard Ernst Artschwager was born in Washington, D.C., and moved with his family in the 1930s to New Mexico, which he continued to visit. (Drawings he made there were the subject of a 2012 show at Nolan.) He attended Cornell before joining the military and fighting in World War II. He was injured in the Battle of the Bulge. Later, he did intelligence work for the United States.
After returning to New York in the late 1940s, he graduated from Cornell, studied with the Cubist painter Amedée Ozenfant and worked as a baby photographer. He later worked as a furniture maker, though he left that profession in 1958 after a fire ravaged his studio in downtown Manhattan, committing himself more fully to art. A series of shows followed, and he had his first exhibition with Leo Castelli in 1965. He would be represented by the dealer for years.
In a statement, Gagosian Gallery, which presented its first solo show with Mr. Artschwager in 2002, said that "Richard forged a richly maverick path, confounding the genres and limits of art while forever changing how we view and understand space and the everyday objects that occupy it."
He is survived by his wife, Ann Artschwager, and three children.