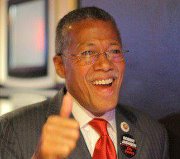 Councilman Robert Jackson has racked up the endorsement of the United Federation of Teachers in his bid to be Manhattan's next borough president. UFT President Michael Mulgrew announced the endorsement, which was voted on by the members of the teacher's union, in a statement today.
"For more than 30 years, Robert Jackson has fought for New York City's public school children and has been their champion and advocate," Mr. Mulgrew said. "He understands personally the power of education and has fought to make sure every child has the chance for the best education possible."
In his statement, Mr. Mulgrew specifically cited a 1993 lawsuit Mr. Jackson participated in arguing the state's methods for allocating public education funds did not adequately provide for New York City children. Mr. Jackson, who was a public school parent at the time, walked the 150 miles from the five boroughs to Albany to spotlight the case.
"From suing the state and walking 150 miles to Albany to fix a school aid formula that was cheating our public school children to standing up against unfair school closures and budget cuts, Robert Jackson has fought tirelessly for our children, their parents and the entire school community," said Mr. Mulgrew. "He knows how to get things done and has a record to prove it. Robert has worked hard for everything he has achieved. He is a leader we can trust, who will stand on principle, bring people together and be a great Borough President of Manhattan."
Mr. Jackson, who is prevented by term limits from keeping his Council seat, is facing a crowded field in his bid for the Manhattan borough presidency. Former community board chair Julie Menin and Councilwoman Jessica Lappin are both in the race. Last year, Councilwoman Gale Brewer also said she would be running for borough president, but she has not officially launched a campaign. The current borough president, Scott Stringer, is running for comptroller. Though Mr. Jackson has lagged behind some of his rivals in terms of fundraising, his campaign sees the endorsement of the influential, 200,000-member-strong UFT as a sign of major progress.
"My campaign is getting a great reception every place we go. This is a major endorsement and another sign of the momentum we are feeling as we build a large and diverse grassroots campaign that is moving this campaign forward," Mr. Jackson said in a statement on the endorsement. "I look forward to working with the UFT to win this campaign. Together, we can make a difference for families today, and for generations to come."