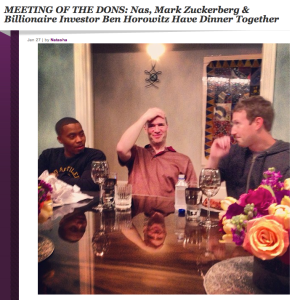 Real Genius Andreessen Horowitz invested $15 million in Rap Genius to help its Ivy League cofounders to annotate the Internet. But how much will they have to pay to rein in the braggadocious Mahbod Moghadam?
In a recent issue of Wakefield, a newsletter covering "tech and startup insight not captured elsewhere," Maboo was up to his old shenanigans, volunteering information about a "feud" with Mark Zuckerberg, who also happens to be backed by Andreessen Horowitz.
Apparently, Mr. Moghadam was at Ben Horowitz's home, "chilling" with Zuck and Nas as is the new mode of Silicon Valley socializing. (Mr. Horowitz happens to be close friends with Steve Stoute, Nas' former manager.) Despite Zuck's heightened privacy concerns (it's complicated?) Rap Genius cofounder couldn't resist Instagramming his good fortune.
Apparently Zuck never leaves his house because he's so afraid of people photographing him, and then our investor – his house is one of the only places where Zuck feels safe – so our investor invited Zuck and Nas over. They were chilling together, and I asked if I could take a photo. He was like "Let's hold off, let's hold off," and I just couldn't resist – I was drunk, and I went paparazzi and Instagrammed it, and I didn't even think it would be a thing.

But then the press picked it up and apparently Zuck gets home and his whole PR crew is calling him every five seconds, and he told us to take it down. We wrote a letter of apology and I feel sorry. I regret taking it, I hope this has taught me some maturity, it certainly got me in a lot of trouble. But then on the other hand, fuck that fool – that's Nas the Don.
Asked by Wakefield if there was anything else he wanted to discuss, Mr. Moghadam again volunteered:
Alright so I told you the New York Times is Carlos Slim's ho, I told you Zuck can suck my dick, what else is there?
When Betabeat asked Mr. Moghadam about the tenor of those comments on gChat, he said, "i am so sorry, i love zuck, i think he should've made the photo w nas his fb profile pic. I talked to nas, nas loved him and loved the photo." It was all "tongue in cheek," he added, "but obvi this offends mark, he got me my last girlfriend, i feel terrible!"
Later, Mr. Moghadam requested that we note that he had taken a Vyvanse to prepare for a UC Berkeley Rap Genius colloquium after the Wakefield interview and was therefore "being negative on the come up." He also noted that he was "not surprised that the 'guy' (pun intended) who runs [Wakefield] went to harvard since havartis (as i call them) are little bitches. Also 'harvard = illuminati, yale = KILLuminati (princeton = chilluminati).'"
Wonder what he calls Andreessen Horowitz?
Bloglords Never Worry In Emily Nussbaum's review of "Girls" for the New Yorker this week, she defined "concern trolling," as "the Internet term for one who ices her sneer with dignified worry." Valley regulars don't seem too familiar with the term. So for a fine example, let us direct you to Sarah Lacy's comments about her former coworker Alexia Tsotsis on Jason Calacanis' This Week In Tech. Whatever happened to putting the blog first?
The Bachelor: Silicon Valley Congratulations to investor Peter Thiel, who made Out magazine's third annual list of "Most Eligible Bachelors." Local suitors, please let us know if you get an invite to his raging Upper East Side dinner parties.
Nap Time Bre Pettis is a busy guy. Between running MakerBot Industries and traveling around for meetings and conferences, he has to get his zzz's in where he can. "Parking lot nap," he wrote alongside an Instagram of his car with a bridge in the background. Perhaps MakerBot should invest in some sweet nap pods a la Google.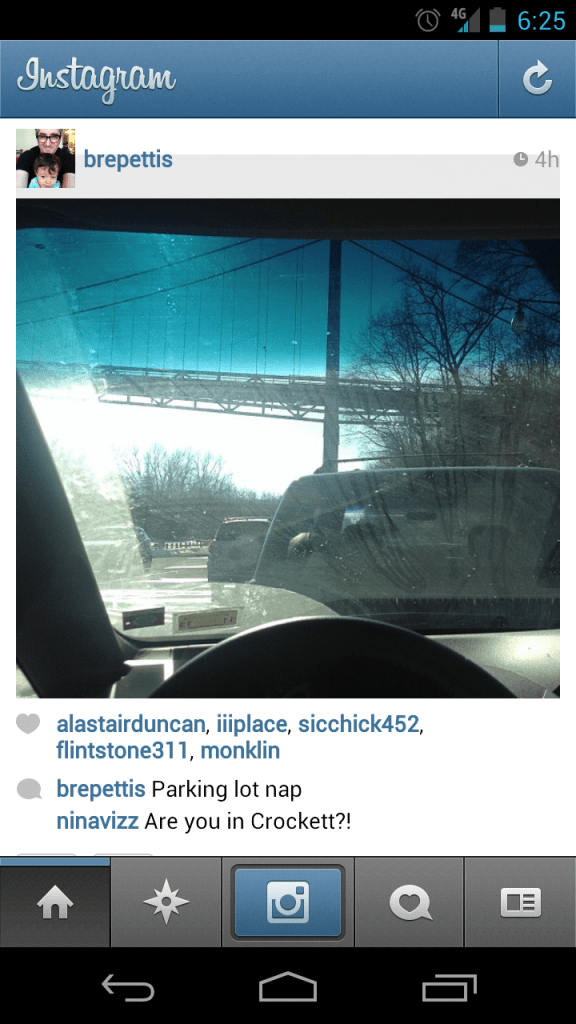 Be Mine If you didn't get enough fill of Valentine's Day yesterday, perhaps this tool for determining your Twitter crush will come in handy. Twitamore analyzes who you follow, @-reply and favorite to figure out who your Twitter Valentine is. Our favorites? The ones who love themselves.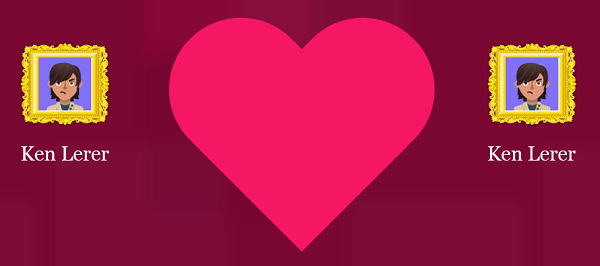 Belly up the bar Wired editor Ryan Tate has a bone to pick with the makers of the bourbon Maker's Mark, who recently announced they'd be adding just a little more water to their product. Quartz took questions for the company's COO via Twitter, and here's what Mr. Tate demanded to know: "What will you do for a living after burning the American bourbon industry's reputation to the ground and destroying your company?" Two words, Mr. Tate: Woodford Reserve.

Attention, please Consider this a cri de coeur from your friendly neighborhood scolds: Please, please, please stop making these Harlem Shake videos. Rumor has it that even Sheryl Sandberg is somewhere in this Facebook video. It's nice to break up the workday with a little caper, but unfortunately, tech companies seem to have trouble rounding up employees with rhythm.
There's only one exception to this blanket condemnation, and that's the dude who appears front and center in Google's version, thrashing about in what appear to be lederhosen. He looks like he's on serious party drugs, and he is mesmerizing, and he is now a GIF:
For those who read and run? When Atlantic Media launched Quartz, it positioned the digital only business publication as the news source for the new global elite: the type of jet-setting professionals more likely to read a news story from a tablet while sipping complementary champagne at 30,000 feet than to hunker over a desktop PC. It stood to reason then that Quartz would be an early adopter of the smart-watch Pebble.
Quartz reporter Christopher Mims also brushed off concerns that nerdlinger arm candy might look pretty goofy once it actually hit the market.
Rappers will gold-plate their iWatches and Google Glasses, and some guy will wear a phablet on a chain around his neck. You'll see.

— Christopher Mims (@mims) February 14, 2013
We think we know just the fella.