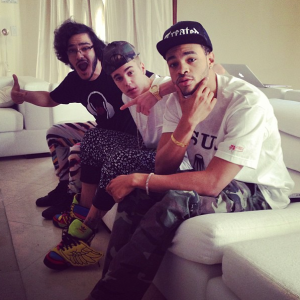 Airbnb Is a Belieber Early this week, CEO Brian Chesky tweeted out a photo of Justin Bieber, whose startup cred apparently extends to Airbnb renter. The Instagram shot was taken by Mazy Kazerooni, cofounder of #DominateFund, Ben Parr's still hush-hush, celebrity-focused micro-VC. Gee, wonder who their LPs are?
Friday flashback This week the revamped Digg got an unexpected celebrity thumbs-up: Fred Durst of Limp Bizkit fame (infamy?) tweeted at developer Robert Tolar Haining, "I love Digg. Great job and beautiful interface." "Why thank you sir!" Mr. Haining replied, because what else are you going to say when Fred Durst compliments your UI?
Curtain's up This week, Facebook sibling/musical theater devotee Randi Zuckerberg attended and spoke at TedXBroadway. More importantly: She got to meet Lt. Sulu himself, George Takei:
With @georgetakei at #TEDxBroadway! He was so great talking about theater & social media, I don't even have to speak! twitter.com/randizuckerber…

— Randi Zuckerberg (@randizuckerberg) January 28, 2013
Not even gonna front like we aren't jealous.
Devastating It seems Monday was a rough day in the Business Insider office. We speak not of Henry Blodget's regaling the Internet with tales of his air travels, nor of the site's tussle with the Awl over the nature of parody. No, we speak of the fallout from Sunday's episode "Downton Abbey." "Still kinda shaken by last night's Downton," tweeted deputy editor Joseph Weisenthal. "Sybil?" Mr. Blodget responded with understanding and sympathy, before adding that it had been "brutal."
It's hard but we'll all get through this somehow, just like the Granthams. Stiff upper lip!
Panty Drop Off SoftBank (SFTBF) principle and devilishly stylish VC Nikhil Kalghatgi got a little surprise in the mail this week. Turns out some silly prankster decided to send him "3.9 kg of panties." Though he declined to reveal just how many pairs of panties equal 3.9 kg, he invited one lucky user to DM him on "Thonger, the all panties Twitter." Sassy.
It's all Greek to me I don't think that word means what you think it means.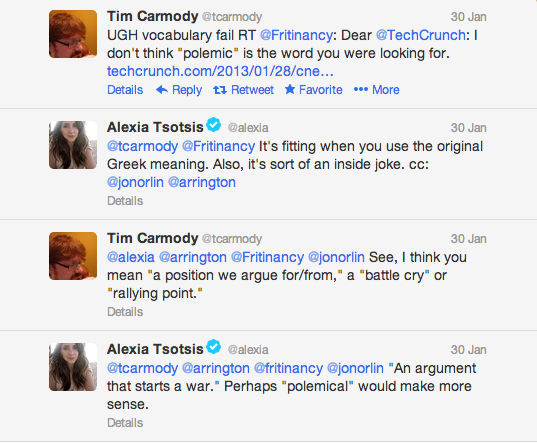 The Coworker Is Right WeWork resident Asi Lang guessed the right price on stage with Drew Carey, while his fellow coworkers watched on TV from 175 Varick Street. Between this and all the Foursquare questions on "Jeopardy," game shows seem to have a Silicon Alley bias.
Oh you fancy huh Appcelerator head of partnerships and occasional Betabeat columnist Spencer Chen has some sick Super Bowl plans. Too bad TechCrunch columnist MG Siegler has better ones. Suddenly we feel gloriously populist for our plans to watch it in our PJs on a normal-sized TV.