Journalism 101 It looks like somebody is gunning for a spot at Nick Denton's soon-to-relaunch Silicon Valley gossip site Valleywag. TechCrunch co-editor Alexia Tsotsis wrote an impassioned post about why tech journalism needs another Valleywag, "a watchdog with enough independence and daring to call it as it is." Writers at blogs like her own, Ms. Tsotsis argues, are simply too embedded in the ecosystem to properly perform their jobs, unwilling to report on certain unseemly aspects of Valley business and culture for fear of having to, get this, sit next to those she's written about at a demo day.

We're still not sure if it was a cover letter or a cry for help. But while we appreciate her willingness to admit that TechCrunch is not that far off from a press-release-factory, it's still shocking that someone sat down and wrote a piece about how tech journalists can't be real journalists because of San Francisco Society . . . or something.
Meanwhile, we've never known Ms. Tsotsis to shy away from a good troll, so it's hard to say who will have the last laugh here. We'll leave it to TechCrunch's clever commenting cabal to speculate.
Your Face Here Thrillist CEO Ben Lerer got a special present for his office: a chair emblazoned with the handsome visage of actor Ryan Reynolds. There's gotta be a joke here that we're not getting.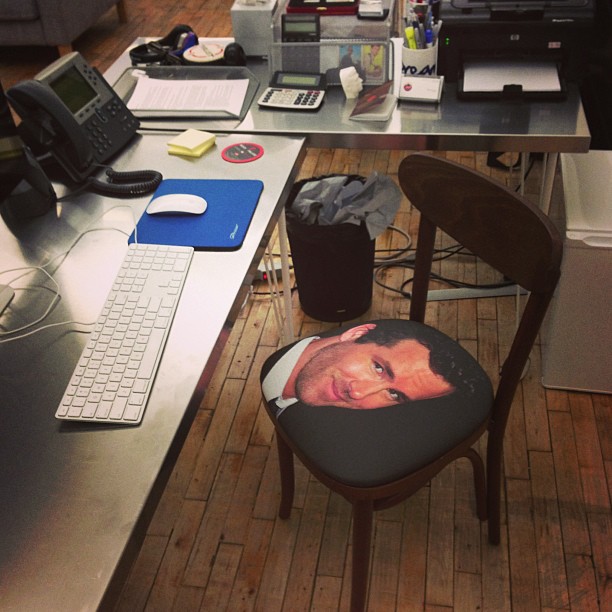 They Got Jokes SpaceX engineers took to Reddit today to answer burning questions such as, "Would you rather fight one spacecraft-sized duck or 1000 duck-sized spacecrafts?" Though writing software for rockets is a job generally reserved for the brilliant, we had no idea SpaceX was such a team of jokesters. When some mannerless Redditor asked the group what their salary is, they coyly replied, "It's astronomical!" Zing.
2 Fast 2 Furious Is there anyone in the whole wide world more excited about the premiere of the sixth movie in the Fast and the Furious franchise than Foursquare CEO Dennis Crowley? It seems the trailer aired during the Super Bowl spurred his enthusiasm to new heights: "CLEARING MY CALENDAR FOR MAY 24!!" he tweeted. You and us both, Mr. Crowley. 
Super Bowl Subs Meanwhile, in an undisclosed location, Brew PR honcho Brooke Hammerling was hosting her own shindig. But her crew got excited about a slightly different commercial: "At @brooke's secret Super Bowl party, we all applauded when Jared came on the screen," tweeted the New York Times' Brian Stelter, referring to a Subway commercial featuring mascot Jared Fogle. We wonder: What sorts of snacks were available at this get-together?
Jack Dorsey Update Still picking up trash with fellow members of the Square crew. This time they hauled in 127 pounds of garbage, plus nine (nine!) syringes.
Duck Hunt You need all the security you can get when you have a multimillion dollar mansion and you're an entrepreneur who's continually hassled by the FBI for your ties to file-sharing services. So Kim Dotcom got the best possible security he could: swans and geese. "Watch out FBI," he warned on Instagram. "My specially trained counter-raid Swan & Geese will protect #Mega." What? Those beaks are sharp!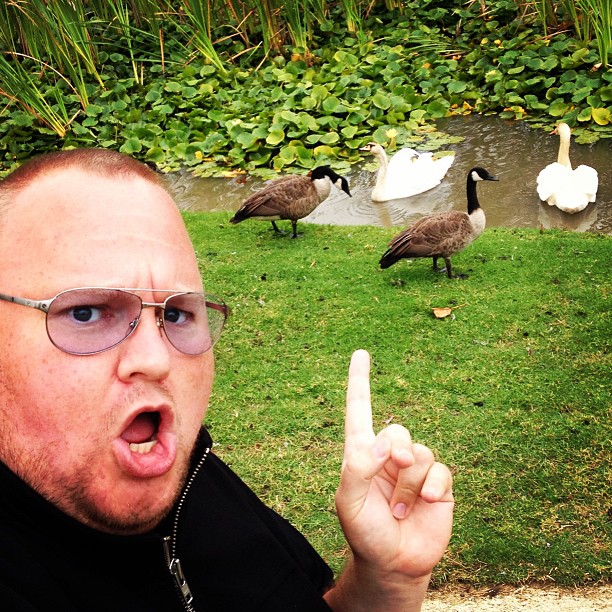 Mash Note  At the end of last month, Forbes published an interview with Mashable chief operating officer, Sharon Feder, in which the magazine heralded the rise of the female COO. An anonymous tipster who "aspires to be a leader in media" took issue with the piece, emailing Betabeat to rag on Ms. Feder for following her husband—former Mashable COO Adam Hirsch—into the executive ranks:
"Reading 'Feder's' answer to the question of "how she got her foot in the door" in Forbes you would think she's some sort of selfmade Sheryl Sandberg (it will become clear why that's in quotes momentarily). But what's gone completely unreported in her ascent is that she's actually ridden the coattails of her husband all the way to the 'c-suite' at Mashable."
What's more, the tipster complained, Ms. Feder has a reputation as a bad woman to cross. "With Feder in control of the pocketbooks and promotions, Cashmore concerned with little more than his next John Varvatos photo shoot (or CNN exit?), and a long line of "departed" employees on the outside looking in, there's a tremendous amount of fear that going against Feder means a short career at the company."
Want to guess who wrote it?