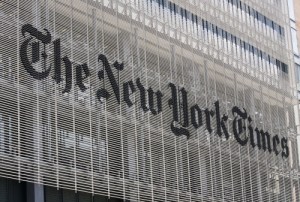 Sam Dolnick and Jay Schrieber are the new deputy editors on the sports desk at the Times. Editor Jason Stallman, who was promoted from deputy sports editor in a masthead reshuffle last month when former sports editor Joe Sexton took the Times buyout and headed to ProPublica, announced the hires in an email to staff today.
"It's painfully obvious what the Sports desk needs: someone who's obsessed with evil dictators and someone who wants to leave journalism and open a bar called The Loser's Circle," the Times announcement said. "We now have both, in positions of principal importance, with the appointment of Jay Schreiber and Sam Dolnick as Deputy Sports Editors."
Mr. Dolnick, a member of Sulzberger-Ochs family, came to the metro desk of the Times from the Associated Press in 2009. Just yesterday, Mr. Dolnick picked up a Polk award for justice reporting for a series about abuses in New Jersey's privatized halfway houses. Mr. Schreiber was the managing editor of the sports section and in charge of the Bats blog about baseball.
The Times' announcement from Mr. Stallman below:
Everyone knows Jay, right? Dean of the Sports desk. Headline writer extraordinaire. Unyielding competitor on the most important beats in sports journalism. He keeps the Yankees and the Knicks honest, he keeps the competition envious with imaginative stories and he keeps us out in front with scoops on athletes who dope. And with his midlife conversion to soccer, Jay has helped make our report a formidable presence on the global stage, a critical move that he will keep pushing toward world domination.

If you don't know Jay, a lifelong masochistic Mets fan, come say hello. He can tell you about his plans for the tavern. (Full name: The Loser's Circle: Where Everybody Knows You're to Blame.)

Sam's the guy who picked up a Polk Award a few hours ago for his devastating exploration of halfway houses in New Jersey. He's also the guy who has a bookshelf full of biographies of history's most deranged creatures, like Pol Pot and Ida Amin. That's useful knowledge in the sports arena.

Here's what Cliff Levy, who worked with him on those halfway house stories, says about Sam:

"Sam is known for his luminous writing and easygoing charm. (Sometimes, he puts his feet up on his desk and leans so far back in his chair that he looks like he's waiting for someone to deliver a piña colada.)"

"But over the last year, he carried out such a reign of terror in Trenton that Gov. Chris Christie's chief spokesman issued a directive to state agencies: 'Do not take any phone calls from Dolnick.' Then Christie himself brought a news conference to a halt with a tirade about Sam. But all Christie could muster to defend himself was, 'Things are going to happen.'"

Well, we know that when Sam is involved, great journalism is going to happen.

Jay and Sam: a powerhouse duo. I'm absolutely thrilled to have them leading the Sports desk.

Jason