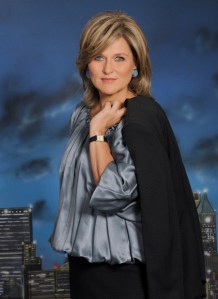 When we saw that Nightline co-host Cynthia McFadden had sold her three-bedroom co-op at 129 East 69th Street last week, we wondered where she would be moving. Like the 11:35 p.m. time slot on ABC, a pre-war co-op in a white glove Lenox Hill building is prime real estate.
The answer is Carnegie Hill (and, if you're watching ABC, it's 12:35 a.m.). The famed journalist tells The Observer that she and her teenaged son are upgrading to a four-story brownstone on the Upper East Side neighborhood.
"It has beautiful qualities—squeaky stairs, old fireplaces, a great kitchen. It's a wonderful place to entertain," said Ms. McFadden, who had just come back from Washington DC after interviewing Hillary Clinton. (If you're wondering whether Jimmy Kimmel has ever interviewed Hillary Clinton the answer is no, he has not.)
When Ms. McFadden is not speaking with the former Secretary of State and possibly future POTUS, she's planning to do a lot of cooking and gardening in the new place.
"Work has me on the road a lot, but I'm really a homebody," she said. "You'll find me with dirty hands in the backyard."
Ms. McFadden told us that the she bought the new place under ask, for some $5 million; it was listed with Brown Harris Stevens brokers Ann Jeffery and Daniel Kessler. Corocoran broker Sharon Baum, who sold Ms. McFadden's co-op for $3.23 million, represented her in this transaction.
Besides a bigger kitchen and a garden, the newswoman had another reason for making the change.
"The house is not huge, but it seems huge to me. I have a teenaged son, so this allows him to escape," said Ms. McFadden. "I just hope he'll allow his mother to come up to the fourth floor to fumigate."
kvelsey@observer.com