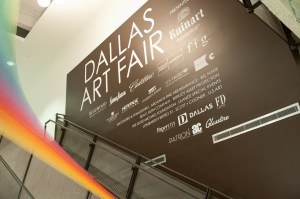 The Seven art fair will head west this spring to stage a show for the Dallas Art Fair, which runs April 11 through April 14, at the Dallas Contemporary museum.
Already known for its programs during Art Basel Miami Beach and, last year, Frieze New York, Seven is more of an exhibition than an art fair. It began three years ago as a collaboration between the New York and U.K. galleries BravinLee Programs, Hales Gallery, Pierogi Gallery, Postmasters, P.P.O.W, Ronald Feldman Fine Arts and Winkleman Gallery.
Dallas Art Fair Co-Founder Chris Byrne said that, with the Dallas Art Fair now entering its fifth year, he welcomed the independent vibe, saying that such galleries are "tastemakers."
"That makes it sound trite," he said, "but my experience with the Dallas Art Fair, there's a different energy when you have someone working more closely with artists and having gallery owners like that in the fair's atmosphere is really engaging for the audience."
In Dallas, Seven will feature BravinLee, Pierogi, P.P.O.W., Ronald Feldman, San Francisco's Catharine Clark gallery and Houston's Inman Gallery.
Joe Amrhein, of Pierogi, said that the fair is going to get creative with its space at the museum, since they're deciding between two spots there that offer just 3,200 square feet and 1,400 square feet, compared with last year's 17,000 square feet for Miami Seven.
"We're trying to have something that will be unique, not just for a museum," he said. "We might have sculptures hanging from the ceiling or utilizing the walls."
He doesn't see the smaller space as a problem, though.
"Very often these fairs are so large that you don't remember anything," he said. "Seven is a good way to see works available in a collegial way and you do remember what you see. It isn't overwhelming. You don't have the advertising aspect. We never cared to have 30,000 people walk through the booth."
"I'd rather be able to have a conversation with someone," he added, "rather than be pressured by all these crowds of people coming through."