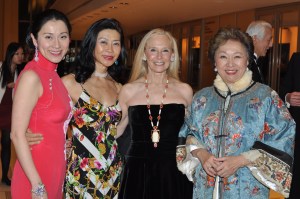 While Shindigger was giddy to celebrate the Chinese New Year last week with the New York Philharmonic at its second annual Chinese New Year Gala, not everyone was excited to ring in the Year of the Snake. Take Joan Rivers, for example. "I'm fucking angry, because they make a lot of our jewelry for QVC," Ms. Rivers cackled at us as we left Dennis Basso's 30th anniversary runway show. "So get back to work, guys … Make that happy New Year. Now get fucking back to work!"
Perhaps Ms. Rivers just didn't receive her invite. Because those who did showed up in high style. Angela Chen, one of the gala co-chairs, wore a dazzling sequined Armani gown that attracted Shindigger immediately to her side as she glided around Avery Fisher Hall's promenade.
"I think the red color is very important for Chinese New Year," she told us.
We hoisted a glass of bubbly to our lips in chromatic agreement but wondered: wasn't she nervous about competing with the Fashion Week festivities that were still raging across Josie Robertson Plaza?
"This week, I can enjoy both," Ms. Chen replied.
Taking off to replenish our glass, we ran into Karen LeFrak, board member and Special Events Committee chairman for the Philharmonic, who had embellished her black gown with some serious Chinese-inspired bling.
Of her floral cluster white-diamond earrings, la grande dame said, "My mother-in-law [Ethel Stone] is ill, and she had given them to me, and it's kind of a spiritual wish for her to get well. You know, kind of a superstitious feeling of good luck for everyone."
With that warm sentiment in our head, we headed again toward the bar, where Ambassador Sun Guoxiang and Madam Wang Min, Chiu-Ti Jansen and billionaire Wilbur Ross were hovering.
As we reached that boozy pot of gold, we also had the good fortune to run into the vivacious Shirley Young, another gala co-chair, who was decked out in a handsome Chinese silk brocade evening jacket with fur collar and a titanic-sized smile.
Was she excited for the Year of the Snake? Shindigger asked.
"Chinese women don't have any problem with the snake," Ms. Young said with a wink, going on to tell us about a fairy tale called "White Snake." "In just a few minutes, you will see the dragon and Madame White Snake, which is a fable about a person from the other world who falls in love with a human being—she's actually a snake."
Which sounded eerily similar to Shindigger's last relationship!
Reaching for another glass of champagne then, we stumbled into Gary Parr, deputy chairman of Lazard Frères and essentially the fairy godfather of the Philharmonic (officially known as chairman and gala co-chair).
"There's really going to be a great mix of music, East and West, tonight," said the Tuxedo Park resident, dressed in a custom-made blood-red silk brocade jacket. But just as he began to elaborate on details of the concert, the room was invaded by the Nai-Ni Chen Dance Company, which paid homage to "The Legend of Madame White Snake."
Afterward, we enjoyed a final cocktail with British businesswoman and socialite Ghislaine Maxwell.
Ms. Maxwell, like Ms. LeFrak, is a proud owner of AKC-registered pooches, and her 3-year-old dog, Captain Nemo (named after the Jules Verne character, not the storm), had just competed to moderate success at the Westminster Kennel Club dog show.
"He was in the last six, but you know, there's always next year," she said.
Fashion! New Year's celebrations! Fancy dog awards! How on earth did this dreadful month of February get so crowded?
The question hung in our mind like a Zen koan.
But no time to think. Moments later, we were wedged into our seats for the concert, which was marvelous. Under the baton of Long Yu, the performance highlights included jazz pianist Herbie Hancock, Peking Opera star Yan Wang and the Snow Lotus Trio, a folk ensemble.
Feeling as though we had maxed out our culture quota for the evening, Shindigger passed on the gala dinner and elected to venture over to arguably one of the best party venues in the entire city: the iconic Lever House on Park Avenue.
Inside, fashion demigod Carine Roitfeld was hosting a Veuve Clicquot- and Belvedere-fueled bash for the second issue of her glossy rag, CR Fashion Book. Shindigger pulled up and quickly eyed our favorite KCD publicist, Hallie Chrisman, at the door, and we knew we were in good hands.
"I like the idea of having a party uptown," Ms. Roitfeld told Shindigger in a corner of the front bar. "I like the Warhols [on the walls], and it's a great place for lunch."
As trays of gourmet prosciutto di Parma, ratatouille crostini, saffron risotto and seared tuna whizzed by, DJ Nick Cohen spun remixes of Donna Summer's "Bad Girls" and Chic's "I Want Your Love." We passed on most of the nibbles, enjoying friendly pours of champagne. Thankfully, the service was anything but Parisian and our glasses were refilled before ever reaching half-empty (or is it half-full?).
"I'm very proud to be here and celebrate this with my mom and my sister and the rest of the party," said Vladimir Restoin Roitfeld in his charming French accent. And it turned out that he too had enjoyed some Chinese New Year festivities. "We had Chinese dinner last night," he said. "I like to go to Shun Lee Palace."
As the deejay was swapped out for a lively Latin band sometime after 11 p.m., designer Olivier Theyskens, fashionista Anna Dello Russo, model Karlie Kloss and Ms. Roitfeld swarmed the dance floor.
Shindigger, unwilling to be a lonesome wallflower and miss the excitement, dove right in, taking our old pal Joan Rivers's advice to heart. We would enjoy a happy New Year. And then we would get back to fucking work—tomorrow.