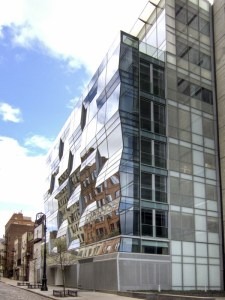 When you're down and out, when you're on the street, when evening falls so hard—buy a $4 million one-bedroom condo in the West Village? Well, times have changed since a younger, poorer Paul Simon penned those words.
Sources tell The Observer that the world-famous Jersey-born, Queens-raised musician recently checked out a unit at 166 Perry Street with his son. The apartment is listed with Miron Properties brokers James Fierro and Donald Abbott, who were tight-lipped about any possible bold-faced names looking at the unit when we called. The sounds of silence, you might say.

The building, designed by Long Island City-based Asymptote Architecture, sits right behind one of Richard Meier's three glass towers, and is considerably wackier than the White Wizard of the West Village's sleek modernist triplets. It's the wave to Meier's straight lines, with a funky angular interior that has all the whiteness of a Richard Meier building, without none of the 90-degree angles.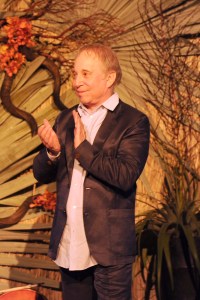 The corner duplex (in which one man's ceiling is the same man's floor) that Mr. Simon was recently spotted scoping out with broker Andrew Sklover is a roomy 2,526 square feet, divided between a main floor and a subterranean level. A soundproofed recording studio with red sound-absorbing cushions on the wall occupies the lower level, which may appeal to Mr. Simon, especially given the recent sale of the Brill Building. The apartment has two full bathrooms and one half-bath and was was fully renovated by the last owner, according to Mr. Abbott. "Everything has been customized—the closets, the lighting, everything."
The seller, the R. Hernreich 1987 Family Trust with Richard Mueller acting as trustee, is hoping to cash in on their $1.75 million buy back in 2010, which was deeply discounted from the sponsor's $2.65 million ask. Sure, buyers were skittish and high-end buyers were rarer still in 2010, but a 125 percent profit over just three years still seems a tad ambitious (diamonds on the soles of her shoes, indeed!). Though as Mr. Abbott pointed out, the unit is priced at less than $1,600 per square foot, compared with well over $2,000 for most new units in the area.
But 166 Perry has some competition—Paul Simon was recently spotted checking out Morris Adjmi's 250 Bowery, a tipster told the New York Daily News. Whether he'll go with deep blue on Perry Street or gridiron modernism on the Bowery—or whether a dark horse will emerge and seduce the singer away to a different building entirely—is anyone's guess.