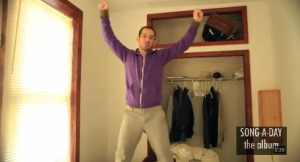 Fresh from his well-documented break-up, Jonathan Mann aka the Song-A-Day Man, is looking for a roommate. And how else would he publicize his search than through song?
Mr. Mann, who has been writing and performing a song a day for the past 1,492 days, had a viral hit last December when he and his now-ex-girlfriend announced via song that they were breaking up (he wanted kids, she didn't). And now, Mr. Mann is looking for a for someone to share his Williamsburg (of course) apartment. 
The video, entitled "Come Live With Me In Brooklyn," takes prospective roommates on a tour of his street (the corner of Havemayer and Hope), lobby, and apartment–which features amenities such as an X-Box, Wii and PS3, a lobby and stairs, lots of little details "if you care," exposed brick and an intern. Not to mention singing and dancing and proximity to the subway. Also, a perk that can't be underestimated: decent closet space.
"Come live with me, I need a roommate," he sings. "This place is awesome/come live with me."  And, in what could either be a deal breaker or a selling point, Mr. Mann acknowledges that if you live with him, he'll probably write a song about it. Be forewarned!
[youtube http://www.youtube.com/watch?v=VZJqUyS5tvc]