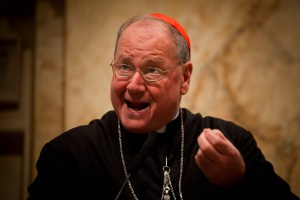 Cardinal Timothy Dolan may have some fans in his native New York, but it doesn't seem likely that he will be tapped  to replace outgoing Pope Benedict XVI, who announced his surprising abdication earlier today. According to David Gibson, a longtime chronicler of the Catholic Church whose work includes a biography of Pope Benedict, Cardinal Dolan's problem is simple: American citizenship.
"The United States still has this cultural, military and political footprint in the world," he told Politicker this afternoon. "We're Bigfoot, and to add the papacy to that American portfolio would potentially cause a good deal of resentment elsewhere in the world, where, frankly, there are a lot more Catholics."
Mr. Gibson did label Cardinal Dolan the "most appealing American candidate ever" for the papacy, however, and suggested the cardinal may be in line for some votes. But Mr. Gibson and other other observers have suggested the smart money lies with Canadian Cardinal Marc Ouellet and other potential candidates from outside the U.S. of A.
"Cardinal Dolan is a great guy with a great media presence [and] he's got connections in Rome, but bottom line, he would still bring that red white and blue stamp," Mr. Gibson continued. "Cardinal Dolan is the most appealing American candidate ever. There is actually a scenario that you could see him getting some votes. But, again, if you're going to see an American on the throne of Saint Peter, you're going to see another North American, Marc Ouellet."
Mr. Gibson's predictions are echoed by other papal analysts. Father Edward Beck told CBS News last year that any American would face "very slim" odds thanks to the same stigma cited by Mr. Gibson. Similarly, Professor Chester Gillis, a theology professor at Georgetown University, described Cardinal Dolan's chances as "remote."
Cardinal Dolan himself would likely agree with these assessments. Asked about the possibility earlier today, the New Yorker said his chances were "highly improbable."
"I hope I'm not being naïve, but I don't think there'd be many cardinals who would think about that chance," he explained. "That's just way too out of the realm of probability."