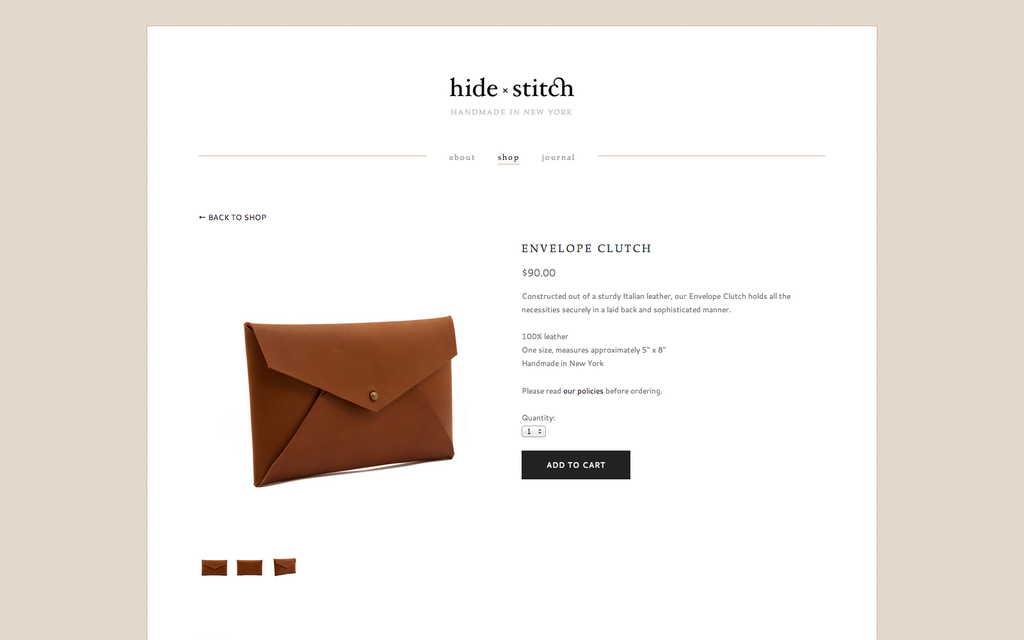 Another big move from Soho-based Squarespace: Today the company is launching a commerce offering for digital and physical goods, which will allow Squarespace users an integrated option for selling whatever they want through the platform.
CEO Anthony Casalena said the reason was pretty simple: Demand. It's been "the number-one most-requested feature across the platform for half a decade."
The project has been in the works for about a year, and most of that time was devoted to addressing the weediest of ecommerce needs: inventory management, shipping, taxes, coupons and so forth. Mr. Casalena gave Betabeat a walk-through (using Hide + Stitch, a store created by a particularly crafty Squarespace employee who handmakes leather goods) and it looked as seamless as the rest of Squarespace 6.
"I think a lot of times in our industry, a lot of stuff gets overshadowded by marketing," said Mr. Casalena. "People say 'ecommerce on the platform,' but really? You really do order workflow, shipping rules, inventory management, all the stuff people really need to do this?"
"We wanted to make sure this was a real offering," he added.
Stripe will handle the payment processing, taking a 2.9 percent slice of the proceeds, plus 30 cents on every successful transition. Squarespace, however, won't be charging an additional transaction fee. Users get the whole kit and caboodle–the site and the ecommerce feature–for $24 a month. While initially designed for stores with fewer than 200 SKUs, there's no limit on the number of products you can sell for that amount of money.
"You can really be accepting payments directly to your bank account within 10 minutes, 15 minutes, from setting this up," Mr. Casalena promised.
There's even a little detail sure to warm the hearts of content marketers everywhere: "We have this page builder where you can add different blocks to either blog post, sidebars or pages." They've built a product block, which means that if (for example) you run a blog about vintage clothing, you could feature a broach from the '40s right next to the writeup of your latest thrifting trip. (Hear that, Etsy types?)
"Instead of just having the static store, if you've got people subscribed to your blog and you want to talk about new products you've got, it's right there." The writers of the J. Peterman catalog would be so proud!
The feature debuts at a booming period for Squarespace, which launched a complete revamp back in July. "A lot of companies do things like this and I think it destroys their company," said Mr. Casalena, citing cautionary tales like old Digg and Netscape.
"For us, it was the opposite. It completely changed our company's trajectory." The company's growth popped 22 percent in January alone. While that's a steeper incline than the average month, it's certainly not a bad sign, either.
"You have to understand, version 6 was just such a ridiculous move," said Mr. Casalena. "You literally sat there behind the scenes and rewrote something that was making up to 20 million bucks a year and said no, that's not going to be the future for us. The thing that's going to be the future for us is this platform that lets us create any kind of website."
Onward and upward!