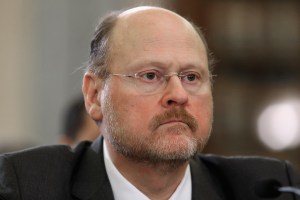 Guy Molinari may be raging at Joe Lhota, but it doesn't seem that anger has filtered up to the highest levels of the Staten Island Republican Party.
Mr. Molinari, a significant local power broker and a former borough president, unleashed on Mr. Lhota in the Staten Island Advance today, announcing he would withdraw his endorsement and instead back another Republican candidate, former Bronx Borough President Adolfo Carrión, for mayor. Mr. Molinari said Mr. Lhota had not even returned his phone messages and thus was undeserving of his support.
"What the hell is going on?" Mr. Molinari charged. "They're making me look bad. I still don't have the courtesy of a stupid phone call."
The development is significant because Mr. Carrión is not a registered Republican and needs the blessing of three of the city's five Republican county chairmen to run in the party's primary. He currently has only two chairs and one chair remains uncommitted–Staten Island's Bob Scamardella. However, Mr. Scamardella has previously indicated he was likely to back Mr. Lhota for the city's top job and he told Politicker today that Mr. Molinari's endorsement-switch had not changed his support.
"I can only tell you as chairman that I'm leaning towards an endorsement of Joe Lhota, and from that perspective nothing has changed," Mr. Scarmadella said. "The most qualified for the job seems to be Joe Lhota."
He further said he had not personally felt snubbed by the Lhota campaign.