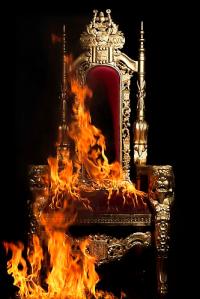 Chelsea galleries are better known for serving the super rich than taking them to task, but if any 1-percent patrons happened upon Leila Heller Gallery  last Tuesday night, they were in for a surprise. A panel discussion devoted to economic inequality brought Nobel Prize-winning economist Joseph Stiglitz and Thomson Reuters Digital Editor Chrystia Freeland to the gallery to speak alongside Roger Mandle, executive director of the Qatar Museums Authority, and artist Gayle Mandle.
Diana Burroughs, the director of modern and contemporary art at Leila Heller Gallery, said that as art becomes more political, she wants to broaden the gallery's engagement with other fields and involve experts from outside the art world. "The fact is that there is a movement and there should be a dialogue about how art is reflecting society," she said.  
The focal point of the exhibition on view, "Game II," a mother-daughter effort by Gayle and Julia Mandle that closed this past Saturday, was Study for a Monument (2012)—an enormous steel seesaw weighted down on one end by a tangled mass of burnt chairs. A large photograph of a flaming throne hung on the wall behind it. According to Gayle, the chairs used throughout the show represented the protestors who have lost their lives, such as the self-immolating Tunisian fruit vendor who helped spark the Arab Spring. The artists hope to cast the seesaw in bronze and "put [it] in a park somewhere as a monument."
"If most of you as children played on a teeter-totter, you know that the game was much more successful if there was an equal weight at both ends," said Gayle, implying a need for greater economic balance. The audience, seated on 11 white picnic table benches (probably for the best, given the symbolic import of chairs that night) nodded approvingly.
Mr. Stiglitz questioned the artists' seesaw imagery. "I can't help but make a comment about your teeter-totter. I love that image—the only thing is, the way you have, the 99 percent outweighs the 1 percent. I'm not sure in the United States that that's true," he said.
"No, but it's sort of reflecting, I think, what's happening right now," said Gayle. "With the massive demonstrations that are going on [that] got rid of Mubarek, got rid of—"
"But they have not yet succeeded," interjected Mr. Stiglitz.
Mr. Stiglitz dropped more than a few gulp-inducing statistics during the talk. For instance, the Walton family, which owns Wal-Mart, apparently "has as much wealth as the bottom 30 to 40 percent of America." Regardless of whether this and other instances of inequity are morally problematic, Mr. Stiglitz argued that inequality hurts the economy and must be addressed.
Ms. Freeland pointed out that economic inequality also influences the way we think about the world. "It distorts not just the political space, and that can be quite direct…but I think it also shifts the intellectual space," she said, dangling one patent leather high-heeled shoe from her toe as she spoke. One audience member asked if an intellectual shift was possible in "a system where the lobbyists are running Washington and you see America's being dumbed down every day. It's all about the Kardashians."
Art may be instrumental in effecting change, Roger suggested. He said that he sees art growing increasingly political in comparison to the "exciting," but predominantly "self-referential" art of the past 35 to 40 years. This work was "safe territory to collect because it didn't really reflect in many ways the hard substance of the reality of today," he said. Art that criticizes inequality may be a harder sell.
Mr. Stiglitz gave his own art-historical take on the matter. "In a way it's easier to do art about war," he said, "because a lot of people could be against war, like Botero has some very forceful pieces about the Columbian—"
"But I daresay that those Boteros have not sold as well as those large figures that you would see on Park Avenue," Roger cut in. Even more radical are the "young people who are now in the streets doing performance art that doesn't necessarily please the people who are passing by."
After the talk, Ms. Freeland, who has appeared on a number of panels with Mr. Stiglitz, told us that discussing these issues in a gallery was a unique experience.
"This was more intimate, and certainly for me it's wonderful to think about things in maybe the more lateral way that you do when you see a work of art," she said. "I don't think we do enough of that."
When Ms. Freeland and Mr. Stiglitz managed to extract themselves from the post-panel throng, they entered a small, private room to select a small print to take home. They both went for the burning throne.