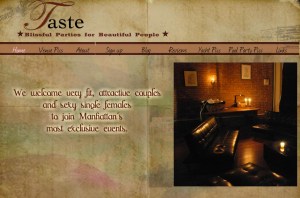 On Reddit today, an angry letter was posted as a .jpeg regarding "Taste," a "Swingers/Sex Club Illegally Operating at 45 East 34th Street #3." The anonymous Samaritan who hung up the sign encouraged others to call 311 in an effort to shut down the "BDSM (bondage/discipline/sadism/masochism) events" that have been going on after dark, every other night of the week.
"During the day," the letter reads, "various other businesses are run out of Suite 3, including "Basha Gallery," "Bienvenue Ballroom Dance Center" and something called the "Dragonfly Body Workshop." (We tried to contact all three "day businesses" at the location, as well as the people behind Taste, but have yet to hear a response.)
We don't like to assume here at The Observer (it makes an ass out of you and your gimp slave), but it seems awfully naive of the note-writer … sounds like Taste is running a sex operation during the day as well.
But look at how legitimate Taste is! For a sex/swingers club, but still. They've got a pretty classy website going on.
See, they even say "Not sleazy!" And they were so above board, they had their own review from an Examiner.com:
A far cry from the cheesy swinger clubs with décor that looks like something straight out of "Boogie Nights", complete with disco balls and glitter, Taste's parties embody a level of sophistication that simply doesn't exist at other such get-togethers. Not to say that they aren't wildly fun. For their second anniversary party, there were two professional pole dancers performing impressive feats while revelers mingled and gyrated to great music. There are two playrooms, separated from the main space by a glass door rather than hidden in some back room. Exposed brick and imported furniture complete the classy aura.
It seems very above-board. Maybe the neighbor is just jealous, as the Examiner piece mentions that some may "perceive Taste's strict rules to be a bit pretentious." A pretentious swinger club? LOVE IT.
Here's the original letter as well.
So why can't people just swing (literally, they have a sex swing in there) in peace? Well, maybe it's because Taste has events every night of the week, according to its website.
We're not going to rehash everything about every event each week as it just gets repetitive. We'll just give you detailed info about the new parties and a summary of the regular/weekly events.

La Trapeze On Premise (NYC) Limp

When: Wed/Thu/Fri/Sat

Who: Couples only
Cost: $110/$120

Carousel On Premise (NYC) Limp

When: Mon/Wed/Fri/Sat

Who: Cpls/Singles Mon/Wed/Fri. Cpls only Sat

Cost: $120ish

Checkmate On Premise (NYC) Semi

When: Fri/Sat

Who: Cpls only

Cost: $120ish

Amantes On Premise (Brooklyn) Semi

When: Thu/Fri/Sat

Who: Cpls/Singles Thu/Fri. Cpls only Sat
Cost: $80-$120ish

Casbar On Premise (Brooklyn) Semi

When: Fri

Who: Cpls/Singles
Cost: Cpls $50. Guys $150
And as an eagle-eyed Redditor pointed out, Taste's website boasts of a "100% totally Private" space with a Moroccan-style tent VIP room, hookah pipe, deejay booth 'with an unmatched NYC Club sound system' and 'full lighting effects,' available for 'before and after clubbing' as well as for anniversaries, baby showers and adult parties."
Nothing like a screaming baby to bug the crap out of the neighbors at 3 a.m. But that's what ball-gags are for, right? No, wrong. Very, very wrong.