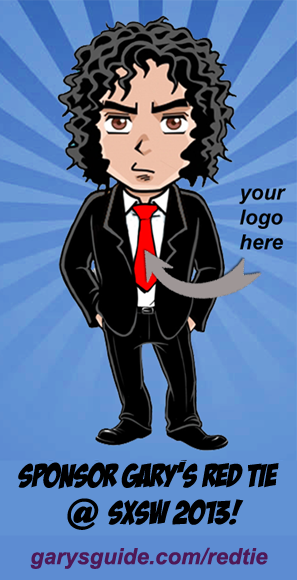 This is a guest post from Gary Sharma (aka "The Guy with the Red Tie"), founder and CEO of GarysGuide and proud owner of a whole bunch of black suits, white shirts and, at last count, over 40 red ties. You can reach him at gary [at] garysguide.com.
So, as y'all know, SXSW (or, as I like to call it, Sundance for Geeks) is now just two weeks away. That's right, people: Time to start planning how you gonna be partying it up and taking Austin by storm! 🙂 To make your life easier (the better to gorge on all those mouth-watering Nuclear Tacos and drool-inducing Salt Lick BBQs) I've put together The ULTIMATE Guide to SXSW Interactive 2012 Parties (185 and counting)! And of course, it comes with my special commentary and notes to help you make sense of all the madness. You're welcome.
Now, of course, as any SXSW veteran can attest, the seemingly endless parade of parties, panels and people can quickly become overwhelming. So to make your life even easier, I've compiled a list of the 16 most-awesome-must-attend-unmissable parties that are bound to give all your friends at home a giant pile of FOMO!
Yes, I'll be at SXSW, attending every last one of those panels 'n parties (or well, as many as humanly possible, even for me). So if you're interested in sponsoring my Red Tie for SXSW and putting your company logo on there, you'd best hurry up and give me a holler at gary [at] garysguide.com.
And now, without further ado, ladies 'n gentleman, the 16 SXSW parties you really, really, reaaalllly don't wanna miss … 😉
CafePress SXSW Shindig
County Line BBQ and libations will abound as CafePress celebrates the launch of MyInstaCard. Participants get an exclusive T-shirt as a collector's item.
Friday (Mar. 8), 4 p.m. @ Bourbon Girl, 212 E. 6th Street
SXSW Food & Tech Cocktails
Serving up authentic Oaxacan appetizers and cocktails throughout the evening.
Friday (Mar. 8), 4:30 p.m. @ El Naranjo, 85 Rainey Street
SXspredfast Bash
Three floors of bars, networking with the biggest brands in social, bowling and a special guest DJ!
Friday (Mar. 8), 6 p.m. @ Speakeasy, 412 Congress Avenue
4th Annual Ignite Social Media Party
Tasty BBQ sandwiches, drinks, two floors, one big party–kick back downstairs or chill on the rooftop deck of Molotov!
Friday (Mar. 8), 7 p.m. @ Molotov, 719 W. 6th Street
#FEED Powered By Twitter
Five nighttime parties, Totally Enormous Extinct Dinosaurs (DJ set), interactive social media art exhibits, juice cleanses, spinning, and yoga on the rooftop!
Friday (Mar. 8) to Tuesday (Mar. 12) 7 p.m. @ AMOA Arthouse @ Jones Center, 700 Congress Avenue
Carnival Fun at #ConduitCorner!
Free beer and delectable fair fare from L.A.'s famous WickedKitchen, plus carnival games, a charity dunking booth, a celebrity balloon wrangler and more!
Friday (Mar. 8) to Wednesday (Mar. 13) @ Conduit Corner, E. 7th Street and N. Congress Avenue
Beauty Bar X 2013
Free manicures + open bar (mimosas, bellinis & custom cocktails) + scrumptious light fare + tech-luxe gift bags. Whats not to like?!
Saturday (Mar. 9), 10 a.m. @ Vince Young Steakhouse, 301 San Jacinto Blvd
Salesforce Rooftop VIP Party
Memorable experiences including developer events, happy hours and a VIP party Saturday night featuring live entertainment.
Saturday (Mar. 9), 6 p.m. @ Salesforce Lounge, 5th & Brazos
Made In NY & American Express VIP Cocktails & Conversation
Join friends from American Express, NY Tech Meetup, Made In NY and others for a lively cocktail party following the days' sessions.
Saturday (Mar. 9), 6 p.m. @ AMOA Arthouse @ Jones Center, 700 Congress Avenue
Wall Street Journal Pool Party!
The Wall Street Journal invites you to hang out pool side! Featuring live music by CC Adcock, Denny Freeman and Will Sexton. (By Invite Only)
Sunday (Mar. 10), 3 p.m. @ Ashton Austin, 101 Colorado Street
Open Bar with Aereo
Drinks and demos and find out why Aereo is the coolest thing to happen to television since the remote.
Sunday (Mar. 10), 4 p.m. @ Old School Bar & Grill, 401 E. 6th Street
Open Web SXSW Pool Party
Pool party-inspired bites, DJ Johnny Bravo, door prizes. Plus one lucky attendee will win a five-day, four-night resort package to Puerto Vallarta, Mexico!
Sunday (Mar. 10), 5 p.m.
4th Annual Wiley SXSW Author Party
Three hours of free food and drinks in appreciation of amazing authors and supportive readers.
Sunday (Mar. 10), 7 p.m. @ Hangar Lounge, 318 Colorado Street
SXSW Party Hosted by MoPub, Metamarkets, & Prolific Interactive
DJ Duo AndrewAndrew spinning on their iPads, Franklin BBQ, great cocktails and a raffle! Transit from the convention center provided on an Austin Trolley.
Sunday (Mar. 10), 8 p.m. @ Icenhaeurs, 83 Rainey Street
Mashable MashBash
A bowling alley, breathtaking rooftop view of Austin, internationally renowned DJ Mick Boogie, plenty of fun surprises and more!
Sunday (Mar. 10), 9 p.m. @ Speakeasy, 412 Congress Avenue
Rovio (Angry Birds) Pool Party
There will be music and BBQ! And no doubt the Mighty Eagle will be there. Rovio may be showcasing something new at the event! (By Invite Only)
Monday (Mar. 11), 6 p.m. @ Ashton Austin, 101 Colorado Street
And finally, don't forget – What Happens At SXSW… Is Gonna Be All Over Twitter 😉