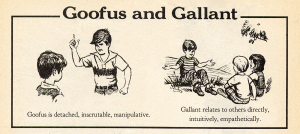 A Winter Advisory warning for two feet of snow couldn't have come at a worse time for all those fashionistas who make their biannual bread during the upcoming weeks. While we'd never encourage anyone to take risks during Blizzard Nemo (awww … even the name makes us sleepy!), it's also not a day to slack off! There is Fashion to reported on, people! However, there's definitely a "right" and a "wrong" way to cover it. Here, our friends Goofus and Gallant take us on a journey through the Fall 2013 line during a snowstorm.

– Gallant works from his home, careful to be aware of any Advisory Warnings from the MTA, Amtrak and airlines.
– Goofus still tries to make it to tent shows today and shuttles from Milk Studios to Lincoln Center, thinking, "A blizzard can't stop fashion!"
– Gallant rechecks the official Mercedes-Benz schedule to see about any cancellations or updates to his day.
– Goofus doesn't even glance at Twitter; ends up waiting two hours for a Marc Jacobs show that has already been rescheduled.
– Gallant realizes after several hours that he might not even need to go to the actual shows; bloggers posting real-time updates and Getty Images give him everything he needs besides an hourlong wait in a freezing auditorium.
– Goofus still bitches to his friends that he remembers the real Fashion Week … when it was still held in tents.
– Gallant keeps up with his contacts and gets real-time information by using the phones during today's storm.
– Goofus pretends his wifi is down and watches House of Cards all day.