(All photos courtesy of Steve Trimboli)
If you are lucky enough to be a musician who ends up defining a period of American culture—Bob Dylan, say, or the Ramones, or hell, even Metallica—you gain a certain type of immortality. But the constellation of people who helped you get there—the siblings, the members of the "original" lineup, the manager—usually winds up on the sidelines.
Most overlooked of all in the star-making village are the scene-creators, who treat their venues like tumblers, shaking misfit kids and outcasts over and over, polishing some of them into rock gods worthy of the world's stage. There are the occasional stars in this New York subset, men like Hilly Kristal of CBGB, Mickey Ruskin of Max's Kansas City and, of course, Andy Warhol, with his Factory of talent.
For most, however, creating a home base for future stars is often anonymous work—as it has been for Steve Trimboli. He has spent the past 44 years bartending, managing or owning some of the most influential venues in the city's underground music scene. Places like Be Bop Cafe, Tribeca and Scrap Bar were all legends in their own right, each a community hub for poets, prodigies, punks and others.

Today, only Mr. Trimboli's last venture (or as he calls it, a "content generator"), Goodbye Blue Monday, still stands. And though Mr. Trimboli no longer owns or manages the establishment, he can still be found slouching in one of the repurposed cafeteria booths near the back, keeping an eye on the place. Like his previous bars, the venue would probably cease to exist if its guardian ever truly left.
Times have changed, though. Forced to sell the bar in 2010 after declaring bankruptcy, Mr. Trimboli can't officially work at the bar in any capacity. But as he lives above it and is its sole founder, he can't very well watch it die either. Mr. Trimboli has helped start an Indiegogo campaign to raise $50,000 for GBM, which was never the most financially stable business to begin with. At press time, the campaign had raised $1,210 of its $50,000 goal, with 35 days left to go.
It was freezing cold when I arrived at Goodbye Blue Monday to see Mr. Trimboli in the curio parlor/free-form music venue, located in the no-man's land under the J line in Brooklyn, a slice of steel acting as a border between Bed-Stuy and the never-quite-gentrified part of Bushwick.
I walked straight past the twisted heaps of scrap metal that served as watchful gargoyles: the clawed metal gates, the motorcycle welded together and bearing a giant mannequin's head as its rider, the seemingly infinite number of sharp edges and jagged spikes that guarded the entrance with a promise of tetanus. This used to be my home. I lived above Goodbye Blue Monday for two years in an old factory loft while tending bar downstairs.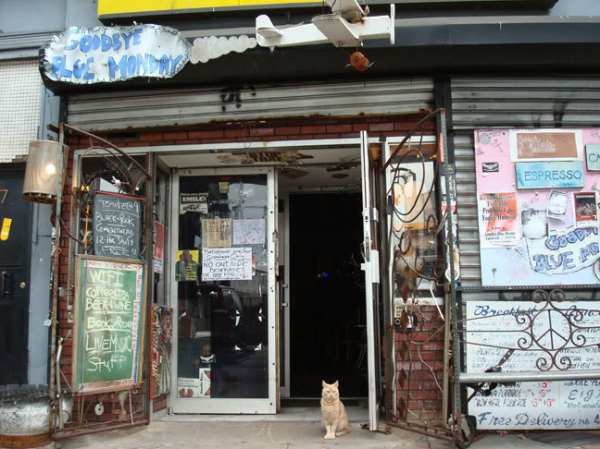 Working at Goodbye Blue Monday was my connection to Scrap Bar, the legendary venue Mr. Trimboli opened in 1986, when I was just a kid. Scrap Bar was known as the place where punk went to die and hair metal held the wake, captured live and broadcast around the world by the burgeoning music station MTV.
Before the bar even opened, Allen Ginsberg stopped by to hold an impromptu lecture on the history of the space. Then on Day 1, Trimboli was forced to boot out his first customers for taking his new business cards and throwing them on the ground. After that, the Psychedelic Furs weren't welcome at Scrap Bar.
On a random night, you could find guitarist Johnny Thunders of the Heartbreakers nodding off in the corner. The year it opened, MTV held its Christmas party there. Had you been there, you could have witnessed the birth of Pac-Man, or saw Joey Ramone having his face smashed into the bar (three times!) for using the N-word on a bouncer. It's where Slash infamously received a blow job from porn star Savannah in full view of other patrons. Scrap Bar was also the watering hole for struggling comics like Jon Stewart and Colin Quinn, a place to grab a drink before taking another stab at the Comedy Cellar across the street.
Legendary though it was, Scrap Bar was not immune to more mundane disasters like theft, greedy partners and drug abuse. By 1995, the bar had been shuttered. "You know you're not going to have a good business if your bookkeeper has tracks up her arms," Mr. Trimboli said about his former bar, BeBop Cafe. By the time Scrap Bar was ending, the needles had given way to cocaine.