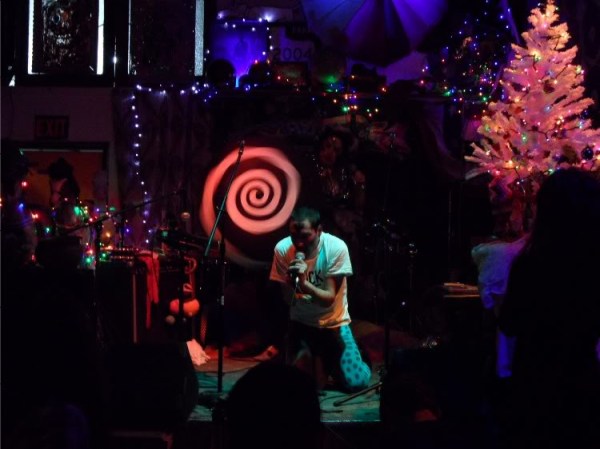 But he refused to die along with Scrap Bar. Unlike his contemporaries, who defined themselves by the music they listened to, the rock 'n' roller from Brooklyn was adaptable. In fact, if there was one thing he hated, it was hearing the same song over and over. Hence the broken jukebox that seeded his next venture.
"There was this jukebox at Scrap Bar, and it had maybe 200 songs. Of course, we only got to hear about 10 of them. I'd call up the repair guys and say, 'Hey, the jukebox is broken!' Every couple weeks, they'd come in and see that someone had busted in the window and added some new LPs, taken other ones out."
"I think finally they figured it out," Mr. Trimboli said. "At least, they stopped trying to fix the jukebox."
In the late '90s, Mr. Trimboli was running a storage business in Hoboken, N.J. He found the Broadway location in 1999 and was planning to use it as space for items he had purchased at an estate sale. He moved in above the venue in 2006, the same year he began using the warehouse on Broadway as a sort of community coffeehouse. For new residents of the otherwise desolate strip, Goodbye Blue Monday was a godsend. Mr. Trimboli began to sell beer and wine at night. He also started encouraging local bands to play—the more varied the better.
"I knew it was going to be what I first envisioned for Scrap Bar," Mr. Trimboli said. "It would be free-form. Whatever happened here, it would be that. It would be a metal bar if someone played metal, it was a jazz bar if people were playing jazz that night."
If you wanted to play at GBM, all you had to do was sign up on the store's MySpace calendar and confirm it with the owner. It was an obviously flawed plan, especially when there were four acts a night … none of whom knew who'd they'd be sharing the bill with. There were a lot of open jazz nights. A lot of terrible music. But also some gems.
Before Boardwalk Empire, actors Michael Pitt and Michael Shannon were both known to show up and play sets. Vampire Weekend had one of their first performances in the space, and the Mountain Goats stopped by for a quick show. Bands came from various locales: Finland, England, Spain, Canada. If you had an idea and some friends and weren't an asshole, Mr. Trimboli gave you a shot. That was the genesis of the Bushwick Book Club, where musicians like Joshua Bell would perform an original piece based on the night's text.
"Sure, there was a lot of free-form jazz and noise the first year … there still is," Mr. Trimboli explained. "But I wanted this to be open to all forms of musical expression." Despite its financial struggle, the venue has won fawning accolades from The New York Times, The New Yorker and The Village Voice. Its concerts are regularly listed in all three publications.
"The vibe there is really cool, like a cross between an art gallery and a garage sale," said Benjamin Miller, formerly of Mission of Burma, who first played at GBM in 2006 with one of his side projects and has frequented the stage since.
Not all of Mr. Trimboli's discoveries were such gems. His Goodbye Blue Monday iTunes account offered an unlabeled library full of "Track One"s, and anything could turn up. On one occasion, his employees (myself included) wound up listening to a 30-minute spoken-word/noise compilation that we realized halfway through was the final recordings of the Jim Jones cult. We were literally listening to them drink the Kool-Aid.
When I asked Steve Trimboli why a half hour of mass suicide was preferable to the time I accidentally let Roy Orbison's "In Dreams" play twice over the course of the night and found myself on the receiving end of one of his more colorfully worded lectures. He shrugged at the memory. "It was the same as the jukebox," he said. "I didn't want to hear the same shit anymore."