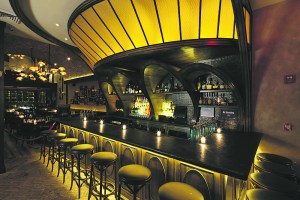 There are as many ways to cut a cow as there are to skin a cat. And there is a hierarchy to these cuts, a precise architecture of prestige dictated by rarity, tenderness and taste. Upon being broken down, a singular cow is parceled into meaty ZIP codes as varied as the 175 that belong to the five boroughs.
Workaday brisket, pulled from the chest, might be Williamsburg, stringy and flavorful. Beef shank, which is unsung, overlooked and used for stock, makes a good Staten Island. And chuck, nothing special but packaged cutely and patted gently, is best cast as the West Village. As for the finest steaks—which are made of both the rarest and most tender cuts—they find natural kinship with the Upper East Side, New York's tony silk-stocking district.
These are the primal cuts of haves and have-nots.
To cater to these well-heeled carnivores in their natural habitat, chef Laurent Tourondel opened an ambitious new steakhouse last November at 73rd and Lexington: Arlington Club. And while the restaurant boasts some of the most well-prepared steaks you'll get in the city, the product on offer isn't really meat but myth. The handsome 200-seat establishment has found the Cap'n Crunch Decoder Ring to unlock the cipher of power and privilege. It turns out it was lodged in the couch of a Classic Six apartment and made out of 28-day dry-aged steak.
As can be seen from his ever-expanding empire, Mr. Tourondel, whose domain now includes BLT Steaks, Markets, Fishes, Primes, Burgers and Brasseries, is an exceedingly skilled and successful chef. But Mr. Tourondel is more a courtesan than he is courageous. He ministers, fulfilling known desires, but does not seduce, promising unknown ones. This he may have learned in the kitchen of a French Navy admiral, where he got his start as a chef, or during a stint at Boodle's, a legendary gentleman's club in London. At any rate, Mr. Tourondel is uniquely suited to the Upper East Side, where he opened his first restaurant, Cello, in a townhouse in 1999.
Statistically, the Upper East Side is among the most conservative, wealthy and white areas in the city. One imagines that Upper East Siders do not like to be led into uncharted waters but to tread their own pristine springs. For this reason, the Arlington Club is their ideal watering hole.
Like the brand-name drugs Paxil, Nexium and Lipitor, the name of the restaurant itself seems calculated to set one off on a guided reverie. And Mr. Tourondel inundates his Arlington Club guests with assurances of their own importance, lasting grandeur and immense gravity. Upon sitting down, one is coddled with steaming popovers, a Tourondelian signature, and reassured of one's hipness with a trio of hipster foodie signifiers: a not-bad brisket bao, old-timey Brooklyn seltzer and house-made pickles.
As for the menu, it is large. But nothing surprises and nothing shocks. The steaks, cordoned off in the middle like cattle in a feedlot, occupy prime real estate on the menu and the mind. There are seven of them, two for two people (a 42-ounce porterhouse for $105 and a 34-ounce côte du boeuf for $125) and two bone-in (a 16-ounce filet mignon for $45 and a 22-ounce rib eye for $62). The skirt steak ($34), cut off the plate, is kept at the bottom of the list, prevented from uppitiness by a thick black line.