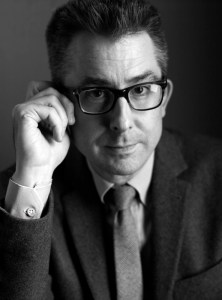 When Graydon Carter pulled an intern named Michael Hainey aside at the Spy magazine Christmas party in 1989, the legendary editor had probably had a few. "I think you're going to be a star," Mr. Carter said. And then the advice he'd repeat over the years: "Don't fuck it up."
Twenty-five at the time, Mr. Hainey knew he'd have to move quickly if he was going to make good on his boss's intuition, since he also believed—beyond reason or doubt—that he would be dead in a decade.
Such was his inheritance.
"For many years, I just thought, 'I'm never going to outlive my father,'" Mr. Hainey said last Wednesday, in his low monotone. We were sitting in a diner just east of the Avenue of the Americas, kitty-corner from the GQ offices, where Mr. Hainey serves as deputy editor, less than a week before the publication of his new memoir, After Visiting Friends. The book, out this week, details a 10-year search for the truth surrounding the night his father died at age 35, when Mr. Hainey was 6. "That was the thing that defines me," he said. "I don't think I'll ever be free of that day."
This book represents Mr. Hainey's latest creative endeavor; he has previously had poems published in Tin House and exhibited paintings at Thom Browne's Tribeca store. It also may be his most personal. From the time he was 9 or 10, Mr. Hainey remembers a specter of death hanging over him. He had questions about his father, questions about how he'd died, that had gone not only unanswered but, for years, unasked.
"I had tried to imagine his last night," Mr. Hainey said. "Did he die alone? It frightened me as a boy that no one was with him."
A Chicago newspaperman, Bob Hainey was found dead in the street on the city's Northside on April 24, 1970, struck down by an apparent heart attack or cerebral hemorrhage, depending on which paper's obituary you read. The author's uncle, also a journalist, broke the news to the family. But there were other inconsistencies. According to one of the obits, he had passed away "while visiting friends."
"We all long to go in search of our family secrets," said Mr. Hainey, whose journey into his family's past didn't begin until sometime after he had celebrated his 38th birthday, having avoided the Grim Reaper's scythe. His thoughts kept returning to those obituaries, which he had read at the library as a high schooler when curiosity finally boiled over. Who were these "friends," he wondered? Why had they never come forward?
Having followed in his father's footsteps, Mr. Hainey was a newsman now, and his reporter's instinct told him something didn't add up.
After graduating from Northwestern University's Medill School of Journalism, Mr. Hainey worked for a time at The Chicago Tribune, one of the papers that had employed his father. But he credits his first experiences in New York, and his time at Spy in particular, with teaching him the real ins and outs of reportage. He counts Graydon Carter and Kurt Andersen, Spy's founding editors, as his earliest mentors, as well as Susan Morrison.
"They really taught me what it meant to be a writer in New York, and at that level of ambition," Mr. Hainey said.