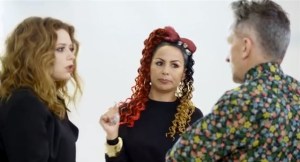 We all know that during the days leading up to Fashion Week, designers tend to go, in the words of Anthony Perkins, "a little mad sometimes." Still, it's hard to imagine what sort of monumental pressure Alexander Wang was under when he agreed to contract Rooster New York, a new branding content site run by Vice magazine co-founder Gavin McInnes (who also directed this segment), for his T by Alexander Wang spring 2013 campaign video. Did we mention that it also stars sketch comedienne Anjelah Johnson as Bon Qui Qui, a pretty racist caricature she developed on MADtv, which we would have certainly been bothered by, had we or anyone we knew watched that program?
Also, Simon Doonan and Natasha Lyonne.
Yikes. When you get an idea this perfect, it must be hard to turn it down.

[youtube http://www.youtube.com/watch?v=yKPTTIlA5gg&w=560&h=315]
We guess the joke is that, in reality, Bon Qui Qui would be kept in a windowless factory loft, forced to work in inhumane conditions for less than minimum wage. Did we get it?