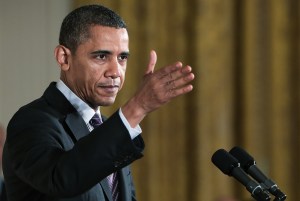 Three members of New York City's congressional delegation have signed on to a letter vowing not to back any White House bargain to avoid the $85 billion in automatic budget cuts known as the sequester that includes cuts to Social Security and Medicare. Both parties have been at an impasse over the cuts with Democrats favoring debt reduction through tax increases and Republicans wanting spending cuts. President Barack Obama has repeatedly expressed a desire to make a deal ahead of the March 1 deadline that includes both tax increases and proposals to reduce the costs of social programs. Now, Congressmen Jerry Nadler, Jose Serrano and Nydia Velazquez have all signed the pledge promising not to back any deal including the compromises being called for by the White House.
"Social Security, Medicare, and Medicaid are the great bedrocks of our middle class society and, together, constitute an essential safety net for millions of Americans," Mr. Nadler said. "I will fight like hell against any deficit plan that cuts these programs or fails to address our immediate jobs problem. It is unconscionable for Republicans to ask those who can least afford it – seniors, kids, our most vulnerable families – to sacrifice even more and shoulder a disproportionate burden. I do not support anydeal that cuts Social Security, Medicare or Medicaid benefits."
The letter signed by the trio of New York City House members was originally authored by Florida Democratic Rep. Alan Grayson and California Democratic Rep. Mark Takano. In the letter, they describe cuts to Medicare and Social Security as almost universally opposed by voters. With Mr. Nadler, Mr. Serrano and Ms. Valzquez on board at least 20 House members have signed the letter.
"We write to let you know that we will vote against any and every cut to Medicare, Medicaid, or Social Security benefits–including raising the retirement age or cutting the cost of living adjustments that our constituents earned and need," the letter says. "Finally, Americans agree that there is more that must be done to require the rich and giant corporations to pay their fair share. Indeed, it is their patriotic duty to do so. As you negotiate with Republicans, you deserve to know that millions of Americans and the below signed Members of Congress stand ready to fight for the principles listed above."
Several large progressive groups are pushing for more members of Congress to sign the letter including the Working Families Party, Moveon, Progressive Change Campaign Committee, Democracy for America, CREDO Action and Social Security Works. They are also soliciting signatures from their membership to demonstrate support for the tough stance against cuts. This morning, the WFP sent out a letter to supporters urging them to sign on and noting "only three New York Representatives have signed the letter so far."
"We commend Representatives Nadler, Serrano and Velázquez for showing some backbone and standing up to protect New York's working families," Working Families Party founder Bill Lipton said in a statement. "After a decade where incomes have stagnated and sunk, New Yorkers cannot afford to have the benefits they have worked hard for cut back. We need to do more to protect our retirees and the most vulnerable, not less."
United participation from House Democrats is crucial to any potential budget bargain as a Tea Party bloc has committed to fighting tax increases. Because of this, a compromise would have to include participation from most Democrats and non-Tea Party Republicans. For his part, Mr. Serrano described the current climate is Washington as including an "obsession" with harmful cuts in his statement announcing his participation in the letter.
"Washington's current obsession with cuts must end. As the President has said, we cannot cut our way to prosperity. This is especially true of our safety net programs," said Mr. Serrano. "Cutting them unduly harms working families and retirees, provides no economic benefit and still asks nothing of the wealthy. I cannot support deficit reduction that targets these middle class mainstays."