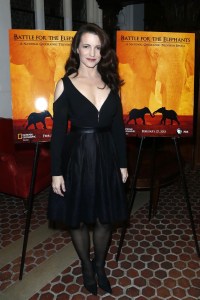 When we heard "The Explorers Club," we assumed they were being ironic. Would we be whisked away on an "expedition" of Cafe Carlyle's arsenal of booze? Or better yet, a geological dig inside of a Hermès bag? But no, these people were serious.
The Explorers Club is squeezed into a historic townhouse on East 70th Street, and it is a dusty temple of heritage that celebrates the exploration of—get this, cher lecteur—the planet Earth! From the intrepid excursions of Admiral Robert E. Peary and Matthew Alexander Henson in the Arctic to Sir Edmund Percival Hillary's mountaineering career across the Himalayas, the place is littered with as many artifacts and busts as 10 Oscar de la Renta runway shows!
Shindigger had been invited—and believe us, we checked the invite twice—to the 100-plus-year-old establishment by none other than Peggy Siegal to preview National Geographic's Battle for the Elephants, which was written, produced and directed by John Heminway. The documentary, slated to air this week on PBS, investigates the illegal tusk trade on the "Ivory Road" from Africa to Asia.
And just as we found ourselves very much involved with this serious subject, traipsing down the main staircase of the club with an empowered feeling of responsibility, we overheard a conversation that brought us quickly back to New York reality, as Ms. Siegal kissed billionaire David Koch and his wife, Julia Koch, who had underwritten the soirée.
"Wouldn't this be nice if this was our house?" Ms. Koch asked her husband as he led her out of the club and into their awaiting Maybach. (Something tells us that the actual Koch residence is just fine.)
We navigated the wood-paneled halls of the club, marveling over taxidermy cheetahs, polar bears and impalas, and, ironically, ducking under a menagerie of tusks.
A few minutes before the screening, we found ourselves chatting with the film's senior executive producer, John Bredar, over a glass of white in the club's decadent library. "The most exciting thing [about the film] is that we have a chance, for the very first time, to tell the story from the supply side and demand side," he said, adding that it's "almost like a crime show. A very serious topic, but very entertaining."
Mr. Heminway, the writer/filmmaker, has spent most of his life in Africa and has long wondered whether or not Africa could survive without elephants.
"Right now, I'm in the mode of advocacy," he said, recalling the first time he saw an elephant. "I can remember being totally petrified at the age of 16, when an elephant came at me in the dark and I thought it was going to charge at me, and now, quite a few decades later, I'm still enchanted.