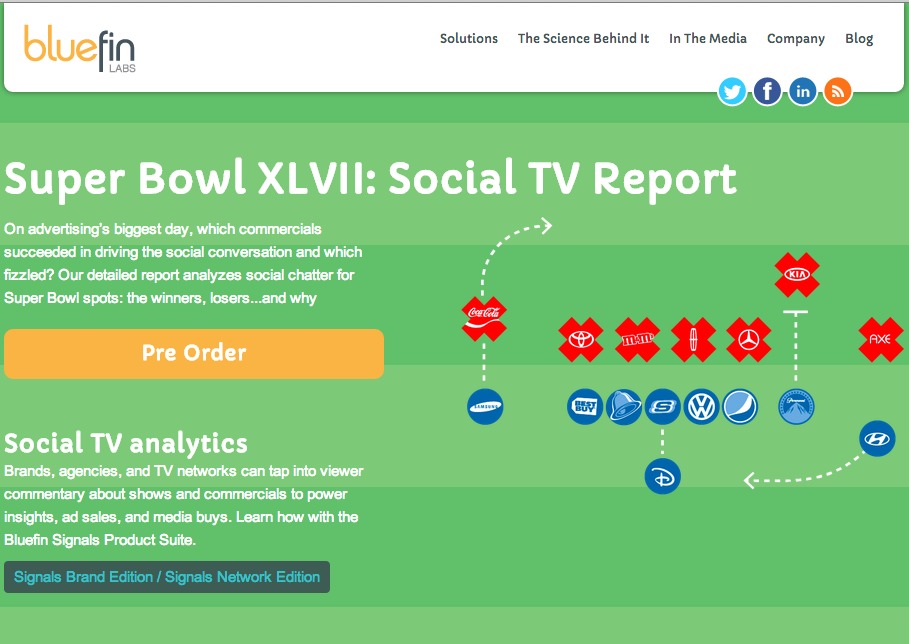 We suppose there's worse ways to end a blue winter Monday than by watching another startup cash out. Business Insider is reporting that Twitter has acquired social TV analytics firm Bluefin Labs. While headquartered in Cambridge, Massachusetts (nestled in the warm bosom of its mother institution, MIT), CEO J.P. Maheu is based here in the New York City.
So far there's no number, but Business Insider says it's Twitter's largest acquisition to date, north of the $40 million it paid for Tweetdeck, suggesting a price tag somewhere between $50 million and $100 million. Cha-ching! 
It's pretty much a no-duh move for Twitter, the service where people rush to crack copycat Bane jokes as soon as the Superdome's lights go out. If Twitter's going to turn all that potential into filthy lucre, the company needs to offer would-be advertisers something a little more solid than a sea of 140-character hosannas to Beyonce and plaudits for whoever runs the Oreo account.
Bluefin Labs offers a way of translating "awareness" into numbers; witness this infographic the startup produced for Ad Age, which tracks the top 10 Super Bowl ads according to social media response. Bluefin has also partnered with Neilsen to develop a social TV rating. Add it all up, and it begins to look like a promising way for Twitter to appeal to marketers and media partners that want to see some hard numbers.
We've reached out to Bluefin Labs and Twitter for comment and will update if we hear anything more.
UPDATED: Twitter has now confirmed the acquisition on its blog, explaining the move: "We believe that Bluefin's data science capabilities and social TV expertise will help us create innovative new ad products and consumer experiences in the exciting intersection of Twitter and TV."
Super Bowl jokes, anyone?