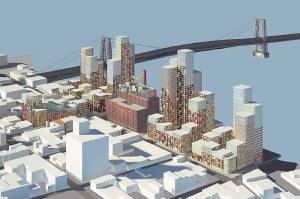 Union Square too expensive for your tech start-up? DUMBO too full? Downtown Brooklyn too… Downtown Brooklyn? Jed Walentas has a new suggestion: how about the Williamsburg waterfront?
Two Trees is looking to return to its commercial roots at the old Domino Sugar factory site, The Wall Street Journal reports. Jed wants to convert the 11-acre site's signature structure into office space and throw up a new office building, for a total of 630,000 square feet. If successful, that would be nearly twice Williamsburg's paltry existing stock of 350,000 square feet of large-block space.
In explaining why, he took a dig at the rest of the waterfront and Long Island City to the north, which lack the vibrancy of mixed use developments. "They don't make great urban places," he told The Journal. "They don't integrate into the neighborhoods."
And to sweeten the pot, Two Trees is looking to offer the space with a massive subsidy: office rents will average about $25 a foot, or about half the price of space in midtown south. (Jed told The Journal that he thought he could get four times that for apartments.)
The Walentases are no strangers to taking a loss on one part of a project to boost another—back in the early days of DUMBO, David Walentas gave 100,000 square feet of free space to arts groups to liven up the neighborhood. And while Two Trees is waiting to develop one of its inland lots on Kent, it's looking for "creative interim uses" for the long-vacant 55,000 square foot property.
"You're drawing people largely from that community," Sean Black, a broker at Jones Lang LaSalle, told The Journal. And with good reason—both the Bedford Ave. L and the Marcy Ave. J/M/Z stops are a three-quarters of a mile walk from Two Trees' site down under the Williamsburg Bridge.
The plan would have to go back through the zoning ringer, though local councilman Stephen Levin seemed warm to the idea, telling The Journal: "I'm supportive of mixed-use development all up and down the waterfront."