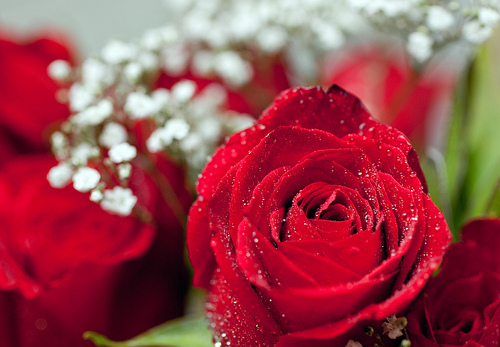 Valentine's Day, a holiday that exists largely to guilt the coupled into spending money and to drive the uncoupled to shell out for Match.com, falls on a Thursday this year. This is a problem, because Thursday might very well be the least romantic of all weekdays.
Well, the unlikeliest of saviors is riding to your rescue. On February 14, Uber will be offering in several cities the option of ordering a "Romance On-Demand" package, via its app. Included are a dozen long-stemmed roses and a personalized card. (Well, personalized in the sense your beloved's name will be printed on the card. If you wanted to send something handwritten, you should have planned in advance.)
This, from the company that previously tried to win you over with ice cream.
Here in New York, recipients might receive a little something extra:
A few lucky recipients will also receive additional Valentine's swag (only if you want it!) such as a Ubear (a cuddly 5 foot tall teddy decked out in an Uber shirt) or goodies from Benefit Cosmetics.
All that, for a mere $150. In fact, Uber might want to send one of these lovely offerings to TLC Commissioner David Yassky? A bit of wooing never hurt anyone's case.
Unfortunately, if you'd like someone to show up at your lover's job and do a dramatic recitation of the juicy parts of Atlas Shrugged, you'll have to use Task Rabbit.