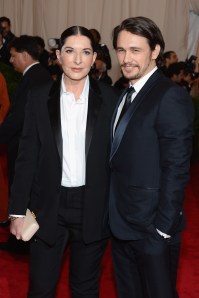 1. Denial: According to Elle.com, Marina Abramovic is looking to make a film which explains to audiences, "'Who is James Franco?' and 'Why is he doing what he's doing?'" Haha, that is a very good question!
… Wait, this is a joke, right? Wasn't he just involved in the documentary about HER? I'm pretty sure that's illegal. Or at least, really gauche. Very funny, you guys.

2. Anger: Are you fucking kidding me with this shit?
"I think he's the most interesting actor of the moment," (Abramovic) said. "Why? Because he takes risks and when you take risks, you can fail. But he takes failure and risk all with the same intensity. He could just be another Hollywood actor and that's it—like everyone else. But he's crossing all kinds of borders and not always with great success. For him, process is more important than the result."
So basically she's calling him a huge failure, whose only claim to fame is being brave enough to be a celebrity who is willing to fail at other stuff. And somehow that's a compelling subject??? This is bullshit.
3. Bargaining: I promise I will see Spring Breakers and Oz: The Great and Powerful if respected media publications stop writing fawning blow jobs talking about how his "hardest role is playing himself." I'll even throw in a guarantee to never write a meta-essay critiquing the critiques of Lena Dunham's role as a cultural icon if you promise me that this documentary goes the way of Franco's music career. Ill even try friends' suggestions of watching Freaks and Geeks over and over, Clockwork Orange-style, until I am forced to admit that he's a passable actor. Dear God, I'll even post those "Acting With James Franco" videos on Tumblr for a month.
[protected-iframe id="bcddb857b3d74b5deeaea8119d0ee553-35584880-38574832″ info="http://www.funnyordie.com/embed/f22e3ff675″ width="480″ height="400″ frameborder="0″]
Acting with James Franco Episode 3: Scene Work
from
James Franco
[protected-iframe id="51db9d42d382c52804d3e0a159787c35-35584880-38574832″ info="http://www.facebook.com/plugins/like.php?app_id=138711277798&href=http%3A%2F%2Fwww.funnyordie.com%2Fvideos%2Ff22e3ff675%2Facting-with-james-franco-episode-3-scene-work-from-james-franco-judd-apatow-cohenobrien-and-dave-franco&send=false&layout=button_count&width=150&show_faces=false&action=like&height=21″ width="320″ height="240″ frameborder="0″ style="border: none; overflow: hidden; width: 90px; height: 21px; vertical-align: middle;" scrolling="no"]
I'll start following Dave Franco on Twitter. Anything!
4. Despair: Why me, God?? No one in my family has a Google Alert for James Franco's name. No one at his (too) many institutions of higher learning seem to care that he's making a mockery of their institution! No one in the art or literary world seems to care that both his technique and his statements are only impressive at an eighth grade comprehension level. Why must I be blighted with this curse of caring so profoundly about our culture's complacent attitude toward Franco? Why, God, why??
5. Acceptance: At least it can't be worse than Gay Town. Or Palo Alto. Actually, why wouldn't I want to see a chronicle of James Franco's failure's as a teacher/artist/writer/student/NASCAR grand marshal/ Academy Awards host/producer/Twitterer/blogger/party ruiner/soap opera guest star? Maybe they'll just stare at each other for two hours. That wouldn't be so bad.