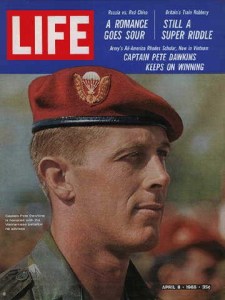 Heisman trophy winner, Rhodes scholar, youngest ever brigadier general in the United States Army, Republican candidate for the U.S. Senate—not traits that one typically associates with Greenwich Village. But that didn't stop Pete Dawkins and wife Judi from picking up a one-bedroom loft at 74 Fifth Avenue.
The fifth floor co-op in the 12-story, 1910 building—just a block from Union Square Park, a place with nary a hippie in a sight these days—was listed by Michael Johnson and Hayim Nommaz at Corcoran, and eventually sold for $1.57 million, a bit under the $1.59 million ask. Sellers Greg and Vivian Cioffi have owned the unit since at least 1997, according to city records.
While The Observer was not able to ascertain how much they paid for it, the couple was obviously eager to get their money's worth, because they tried listing it in 2010 for nearly $1.6 million, but to no avail. The Cioffis eventually decided to rent it out for $7,200 per month, before finally settling on a lower price.
At 1,700 square feet, the home is reasonably spacious, but the layout yields only a single bedroom which lacks a private bathroom, plus two windowless interior home offices—one of which clocks in at 185 square feet, plus an en-suite bathroom. Perhaps these deficiencies perhaps account for the co-op's below-average $926/square foot price? (The hefty $2,288-a-month maintenance charge probably doesn't help.)
Despite the awkward layout, the unit is chock-full of amenities not usually found in a one-bedroom loft apartment, form an in-unit washer/dryer and to a roof deck complete with wooden water tower (quaint! although it's no hot tub).
The Dawkinses bought the unit amidst a larger downsizing—they sold their 18-room, 18,000-square foot estate in Rumson, N.J., in 2011, for $12 million, less than half the $29.9 million they originally wanted for the waterfront spread. The couple was at one point involved in a legal battle with their next-door neighbors, Michael and Diane Gooch, over a caretaker's house that they wanted to build in lieu of an existing poolhouse. Thank goodness the Greenwich Village Society for Historical Preservation won't have to worry about such problems, as 74 Fifth Avenue has limited potential for a  2,700-square-foot addition.