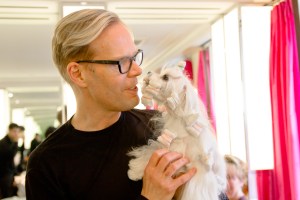 Snapshot, a two-and-a-half year old Maltese, sat perched quietly on a purple pedestal like a small, fuzzy royal. The Transom was in the cutting room of the Sharon Dorram at Sally Hershberger Salon on the Upper East Side last week, where Snapshot spends his days and where his owner, Tim Lehman, works as a stylist.
The salon, with its plush pink curtains, crystal chandeliers and vases of orchids—the place is a favorite of elite clients like Christie Brinkley and Linda Evangelista —is hardly your average doggie day care. But then Snapshot is not your average Maltese. Snapshot—registered name: 'Champion Ta-Jon's Pawsitively Pawparazzi'—is set to make his debut at the 137th Annual Westminster Kennel Club Dog Show, which starts Monday at Madison Square Garden.
"Basically the entire year, in the back of our minds, is always Westminster," explained Mr. Lehman. "It's the Kentucky Derby of dog shows."
Westminster is a steep challenge, especially for a rookie like Snapshot. However, Mr. Lehman hopes that a life spent mingling with the city's elite will give the well-coiffed canine a jump on the competition.
"When I was younger, I loved working with hair—that's why I showed the dogs with the long hair," explained Mr. Lehman, who has been showing dogs at Westminster since he was 13. "And when I got older, it made more sense to go to people. But I've always loved the hair."
Although he's had many dogs over the years, his first love was the Maltese breed, whose silky, flowing white locks are a hair aficionado's dream (if the average grooming-averse dog owner's nightmare). "I always liked the process of that; I found it more challenging and rewarding," said Mr. Lehman of the intensive maintenance involved in showing a dog like Snapshot.
Certainly Snapshot's grooming ritual is at least as demanding as those of the socialites who grace Mr. Lehman's chair. Sitting in the salon, Snapshot's hair was pinned back with colorful wrappers to keep it from breaking, rather resembling an old lady getting a perm. His wrappers get changed every day, he is brushed daily to prevent tangles and he receives a bath once a week using human hair products.
"It's really hair instead of fur," explained Mr. Lehman, who does all of Snapshot's grooming himself. "He loves [being groomed]. He's in heaven. He's like the clients," he added. "It's good for his self esteem."
Boosts to Snapshot's self-esteem are not in short supply at Sharon Dorram. Over the course of the morning, numerous customers came up to Mr. Lehman and Snapshot, wishing the pair luck at the big show, scratching Snapshot under the chin and succumbing to high-pitched baby-talk.
"He's so pretty—his eyes, this perfect little nose!" cooed salon publicist Jennifer Goldstein-Ruff.
"It wouldn't be an overstatement to say he's a mascot for the salon," explained Mr. Lehman with more than a hint of pride. "Everybody really loves him; it kind of softens everybody. It's a great conversation piece for the salon."
And being the unofficial mascot of one of the city's finest salons has its perks, not the least of which are some pretty prestigious pals.
"He only lets Candice Bergen hold him," explained Ms. Goldstein-Ruff.
At a contest like Westminster, anything can happen, and despite Snapshot's A-list fan club, Mr. Lehman doesn't dare to get his hopes up. He's just focused on making sure that Snapshot looks his best for the big day. But even if Snapshot fails to come away a winner, at least he has something to fall back on.
"[Losing] wouldn't be the end of the world," acknowledged Mr. Lehman. "We do have a day job."