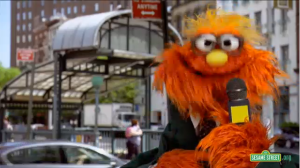 "Reporter" is today's word on  Sesame Street. But what does that mean? Good question. An orange muppet that didn't exist when we were in preschool explains. Standing outside of City Hall, the orange muppet interviews kids to find out (kind of like what a reporter would do?). And we are happy to report that at least one kid has heard of newspapers.
One girl provides a fairly comprehensive working definition. "A reporter is someone who talks about and writes about major events going on in the world," the brunette tween explains. Okay, we'll take it. "Where do these reporters report these stories," asks the orange muppet. "On TV," one kid says. "On the Internet," says another. " "For a newspaper," says the young boy with an old-fashioned fondness for print.
We are waiting for the orange muppet to explain Blogs, Magazines, Twitter and Viral Videos.