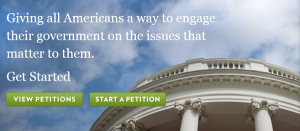 If we're talking about engagement, the White House online petition platform We the People has already been a resounding success: In the last two months of 2012 alone, users appended 4.9 digital signatures to more than 73,000 petitions on such matters as gun laws, the war in Afghanistan and the nation's pressing need to build a replica Death Star, forcing the Obama Administration to raise the threshold for presidential response from 25,000 to 100,000 signatures.
But don't think this administration intends to rest on its online petitioning laurels. In a blog post today, Peter Welsch, deputy director of online platform in the White House Office of Digital Strategy, revealed that We the People as we know and love it is only a version 1.0.
In the months to come, Mr. Welsch plans to roll out Petitions 2.0, an update that will make it easier for outside parties to mine the petitions for data:
The first set of methods, Read API, will be released in March, 2013 and will allow anyone to retrieve data on petitions, signatures, and responses. Later, we'll release a second set of methods, Write API, that will allow other websites and apps to collect and submit signatures without directly sending users to WhiteHouse.gov.
What's more, the White House is holding a hackathon later this month to give a select few a sneak-peak at the API. Well, we suppose it's nice to see the federal government reading the word "hacker" in a friendlier context. As for the new API, we're waiting with baited breath to learn what the data underlying petitions like this one will tell us.