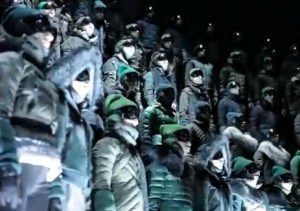 Moncler, the foremost design label for premier puffy coats and Fashion Week presentations involving people sculptures, held its exhibition in New York's Gotham Hall Saturday night. It did not disappoint: The "Human Forest" show involved 370 boys and girls wearing the label lining up on different tiers underneath a mirrored ceiling, while flashing lights and a Star War-y soundtrack blared.
Of course, the biggest fans of Moncler that evening were the Brant brothers, who have yet to see a Fashion Week event that they couldn't throw their teenaged two cents on.

[youtube http://www.youtube.com/watch?v=0imUrv4-DYw&w=560&h=315]
How long until they come out with their own flash mob, do you think?