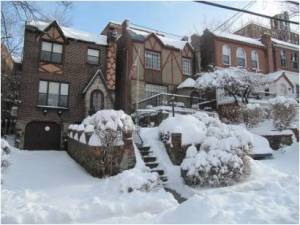 Besides a subway stop, Van Cortlandt Village has everything a residential neighborhood would want. The Bronx community is quaint, abuts two large parks—Van Cortlandt Park and the Jerome Park Reservoir—and is reasonably priced (well, for New York). And—bonus points—all this charming, reasonably priced real estate lines narrow, winding street originally laid out by Calvert Vaux and Frederick Law Olmstead.
Life in this delightful enclave would be great, The New York Times reports, if only the residents didn't have to fend off so many unwelcome advances from developers. The story then goes on to lay out all the information the paper's readers would need to know to consider a move there. Bring on the influx of new residents! Bring on the developers!
Okay, maybe that's giving too much credit to the power of The Times to move the masses, but it's an odd hallmark of the real estate section's "Living In" column to spend the first half of a story talking about how sleepy and unspoiled by the stroller pushers and hipsters a neighborhood is, then to devote the second half to lots of practical information to help those same stroller pushers and hipsters decide if they'd be interested in moving there.
And as it turns out, Times readers, Van Cortlandt park is an excellent place to move. It's relatively inexpensive—at least it was.
"If these properties were in Brooklyn, in Park Slope," one broker told The Times of the affordable real estate, "they would be $1 million and over."
Plus, it's only about 40 minutes from midtown Manhattan (express bus service and the 1 train isn't a bad walk). Naturally, readers would be concerned by "the commute" given that this will basically be a bedroom community.
On the weekends, Lehman College and the few shops along Sedgwick Avenue provide entertainment. There is, they should be pleased to know, a historic district (the neighborhood housed a fort during the Revolutionary War) and a co-operative of Tudor houses trying for a landmark designation. Not quite Park Slope, but given a few more years, a couple of dimly lit bars serving craft brews, an upscale baby shop or two, who knows?
The only downsides are the elementary and middle schools (the schools got Bs and Cs, although there are a few excellent high schools) and those pesky developers continually trying to build high rises to serve the masses priced out of Manhattan and Brooklyn, looking for a pretty, leafy neighborhood with reasonable prices and a not-to0-terrible commute.
Don't all move at once now.
kvelsey@observer.com