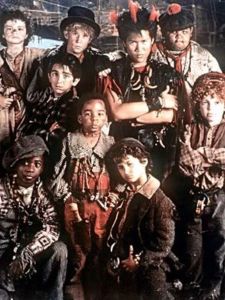 Thanks to Kim Velsey's brilliant response to The New York Times's highly blog-troversial Sunday Styles article "Creating Hipsturbia," we know that just an anecdotal format does not a mass suburban exodus/trend story make.
Sadly, Alex Williams was this close to having a real story on his hands, but seems to have gotten his migration patterns wrong. Because *Double Drudge Sirens*, there's a data-proven "trend" of young people moving to New York City and especially Brooklyn in the last several years. Now there's a story … young people move to Brooklyn from the suburbs! (Maybe they all swam here on the Hudson current after realizing that the dream of the '90s isn't alive in Dobbs Ferry.)

[youtube http://www.youtube.com/watch?v=AVmq9dq6Nsg]
People in flyover states also think Portlandia hits "too close to home." Sorry, Brooklyn.
According to this astonishing study released in August by the Empire Center for New York State Policy, over 300,000 new residents between the ages of 20 and 34 moved to New York between 2000 and 2010. And, according to the Department of City Planning in its population comparison between 2010 and 2011, the borough with the largest uptick in new residents … was … wait for it …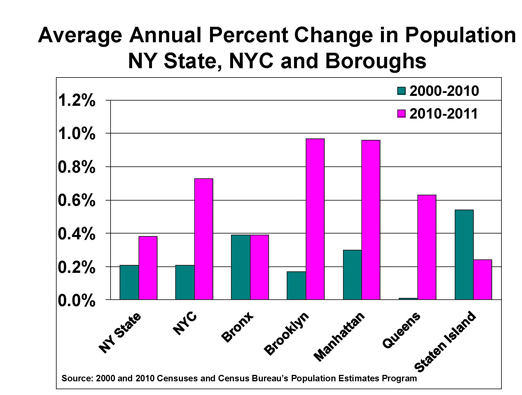 That's right, it's Brooklyn. Not only with the highest inter-regional percent change in population in 2011, but with the largest jump in net natural growth from 2000-2010 to 2011. So not only are people coming to Brooklyn and even NYC, but we've effectively stopped hemorrhaging residents in just one year. Of course, statistics are the easiest thing to manipulate when trying to "prove" a trend with something other than the anecdotes of a couple of friends and the guy from FAILE.  Just look at the  headline in the New York Daily News in August 2012–"Empire Center Report: New Yorkers Leaving in Droves For Decades," and its claim that New York was only behind three states in "negative net migration the last decade"–and compare it with the one quoting the same study, 10 days later: "New York City gained 300,000 new residents between ages of 20 and 34 between 2000 and 2010, new report finds."
During the time that the report was making waves, no one was doubting Brooklyn's place as the A-Number-One-Good-Times-Artisinal-Region, an escape into a modern Bohemia for young adults. As USA Today's Rick Hampson noted, Brooklyn had shifted from the place you run from to avoid your family, to the place you run to (to avoid your now priced-out family).
Old Brooklyn was a place you came from (including Aaron Copland, Woody Allen, Larry King, Wolfman Jack, Mike Tyson); New Brooklyn is a place to go to (as have Maggie Gyllenhaal, Paul Giamatti, Anne Hathaway, Björk).
But Mr. Williams was right on one point. Brooklyn is for the young, and the elderly  are leaving the region in droves: the net migration losses from 2010 to 2011 were around 20,000 residents. But it's not what you think: The concept of people leaving the city to go somewhere and raise a family is undermined by the fact that approximately 32,000 babies were Made in Brooklyn during that time period, which, along with the positive internal migration, leaves Brooklyn with an extra 27,945 people.
And if Brooklyn is for the young, upstate New York is for the old. The really old. From the NYDN's article that was pro-New York migration:
According to the report, 24.4% of city residents are under 19, 24.9% are between 20 and 34 years old, while the rest are 35 and over.

The city population is also aging at a slower rate than the rest of the state and country.

The median age in the city grew from 33.6 in 1990 to 35.5 in 2010 — a jump of 1.9 years.

That's compared with the rest of the country where the median age was 37.2 in 2010 — 4.3 years older than it was in 1990.

Upstate New York is even older than the rest of the country. The median age across the state was 40 in 2010 — 6.6 years older than in 1990.
Ah, so, Brooklyn and New York City are like Never-Never Land where the residents just won't grow up. Meanwhile the Hudson–far from being the new homemade mayo, Edison-bulb-adorned mixologist hotspot, is looking down bewildered, quoting to themselves that Matthew McConaughey line from Dazed and Confused: "I get older, and they stay the same age."
And just so we're clear on the subject, if you're thinking of moving your urbane lifestyle out to a rural area, it's best not expressed in some twee hobby that the locals have been doing for generations now.
"Oh, you make homemade jam? We have a whole basement where we pickle the cucumbers we grow from our garden." — Your new geriatric neighbors in Irvington, whom you'll become close competitors with after realizing, with some horror, that you are
probably 44 years old
.