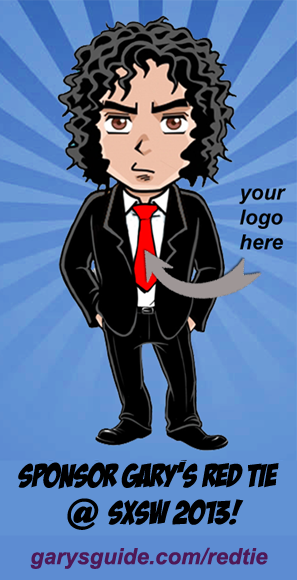 This is a guest post from Gary Sharma (aka "The Guy with the Red Tie"), founder and CEO of GarysGuide and proud owner of a whole bunch of black suits, white shirts and, at last count, over 40 red ties. You can reach him at gary [at] garysguide.com.
So last week I did this blog post highlighting The 16 SXSW Parties You Really, Really Don't Want to Miss. And I got a ton of email from you guys & gals saying a) "Thank you, you're a life saver!" and b) "We want more, more, MOARRR!"
For the hardcore partier, I've put together the ULTIMATE Guide to all the SXSW Parties (a whopping 300+ and counting!). Print this out before your trip and you're golden, my friend. And as you can see, there're a ton of events that don't even require a SXSW badge. 
For the rest of you, here are 16 More SXSW Parties that have the Gary Stamp of Approval. You're welcome, my little tech monsters! Now go forth and RSVP away. Oh and next week when you're walking around in downtown Austin, if you notice a guy with a big 'fro in a black suit, white shirt and a Red Tie (with ads all over it), come over and say hello!
Btw, I have 2 FREE Passes to the much anticipated Rovio (Angry Birds) Pool Party! 🙂 Its on Mar 11 @ Ashton Austin. The Mighty Eagle will be there (of course). There will be music and BBQ! I hear Rovio may be showcasing something new. Each Pass is good for 1 person + 1 guest. Interested? Apply Here.
I've also been told that there will be #BrilliantBrew Coffee Trucks from-the-future driving around, housing GE's Barista Bots that will print portraits of coffee drinkers into the foam of their latte using face-detection software! Craazzzy huh? You can find them parked on the corner of Trinity & 3rd (Mar 8), outside the Made in NY event (Mar 9), 101 Red River (Mar 10) and 301 E Cesar Chavez (Mar 11).
If you've ever wondered whether you have what it takes to become a performer on Cirque du Soleil (sure, why not), then check out their party on the 15th where their talent scouts will be present. Also, Livefyre's SXSW NewsHub will be curating tweets & photos in real-time from the hottest panels and parties.
And now–drumroll please–16 *MORE* SXSW Parties that you really, really, reeeaally don't wanna miss… 😉
Mobi + Verizon SXSW Kickoff Party
Lots of food and refreshments, including authentic Austin BBQ, as well as live music with a scenic view!
Thursday (Mar 07), 4 p.m. @ One American Center, 600 Congress Ave, Ste 1600
Sake Bomb Party!
Sake Shot Bar, Ty Ku Premium Sake Tastings, Free Kenichi Appetizers, Beer & Cocktails and Live D.J.
Friday (Mar 08), 10 p.m. @ Kenichi, 419 Colorado St
Happy Hour at the Hackers Hostel, Presented by WeHostels
Happy Hour of handcrafted cocktails and a live jazz band!
Saturday (Mar 09), 5 p.m. @ Firehouse Hostel & Lounge, 605 Brazos St, Ste 100
Awesomest Journalism Party. Ever. III.
Featuring awesome Texas food, awesome Texas beer and an awesome photobooth from SnapFiesta
Saturday (Mar 09), 5 p.m. @ The Palm Door, 401 Sabine St
ff Massive Party
Come meet ff Venture's portfolio companies, founders, & execs. Featuring: live music & an open bar.
Saturday (Mar 09), 6 p.m. @ Empire Automotive, 604 E 7th St
TechStars Conquers SXSW 2013
DJs Fubari (TechStars' own Ari Newman), [Whoop Whoop/Cabin Fever], Part Time Chiller [CHNL – LA], and John Wander [CHNL, Roam Music LA] will be dropping beats all night long!
Saturday (Mar 09), 8 p.m. @ Cedar St Courtyard, 208 West 4th St
House Party!
Featuring DJ Sets by Viceroy with Sean Glass. Sponsored by Dos Equis and Patron XO Cafe. In partnership with Thrillist, Wired, Track, Cameo and small Girls PR!
Saturday (Mar 09), 9 p.m. @ CTC House & Garden, 1102 E Cesar Chavez St
Pop! In & Party with PayPal
Performances by Man Man, The Octopus Project and Belaire. Plus an epic Superhero surprise!
Saturday (Mar 09), 9 p.m. @ Mohawk, 912 Red River St
MRY SXSW Launch Party
2 DJ's, including LA Riots, Food by one of Austin's best, East Side King, Fire Troupe, Ice Louge, Go-Go Dancers, and a few more surprises!
Saturday (Mar 09), 9:30 p.m. @ The Belmont, 305 West 6th St
Gannett Media Lounge #GANNETTLOUNGE
Houndstooth Coffee, Peached Tortilla Breakfast Tacos, Salt Lick BBQ Lunch
Sunday (Mar 10), 9 a.m. @ Hangar Lounge, 318 Colorado St
Livefyre Presents: SXSW13 Fyrebash
3 live acts – Vacationer, (Brooklyn-based) Body Language and The Hood Internet. Open Bar.
Sunday (Mar 10), 8 p.m. @ TenOak, 409 Colorado St
The Crowdtap VIP Party III – The Legendary Cant Miss Party of SXSWi
With White Panda, Radical Something, Little Daylight, VJ Culture and NYC's top DJ Vikas. Open bar and year two of the Battle of Austin's Best Food Trucks!
Sunday (Mar 10), 8:30 p.m. @ Haven, 409 Colorado St
Spotify House
Daily live performances, artist DJ sets, local food truck flavors, ping-pong, photobooth, giveaways and more!
Monday (Mar 11), 12 p.m. @ Spotify House, 1010 E Cesar Chavez
The Barbarian Group + Vimeo present No Way Back
3 stages featuring no less than 15 illustrious band performances, over the top DJ sets + mind melting visuals!
Monday (Mar 11), 6 p.m. @ Mohawk, 912 Red River St
Geeks from Gangnam
Seven startups from Korea will be there. Live musical performances by popular Korean bands Galaxy Express and Goonam. Free drinks and delicious appetizers!
Monday (Mar 11), 6:30 p.m. @ Moonshine Bar & Grill, 303 Red River St
GroupMe Major Rager 3D
Performances by RAC, Tim Sweeney & Viceroy.
Monday (Mar 11), 8 p.m. @ Cedar Street Courtyard, 208 W 4th St
BONUS #1
#Secret_Wine_Party with Gary Vaynerchuk (Wine Library, Vayner Media and Author of Thank You Economy)
I can't say when. I can't say where. But if you follow @garyvee, All shall be clear!
BONUS #2
Conduit Corner will be playing host to a bunch of happy hours (There'll be drinks, backrubs, munchies & much more)! With Internet Week NY & StartOut (Mar 8), Tracx (Mar 9), SF Music Tech (Mar 10), Warner Brothers (Mar 12), BandPage (Mar 13) and Sweet Relief (Mar 13).
Friday (Mar 8) to Wednesday (Mar 13) @ Conduit Corner, E 7th St and N Congress Avenue
BONUS #3
#FEED Flavorpill Sanctuary Pwd By Windows 8
Yoga, cycling, bootcamp, massage, juice w/ CRUNCH, CYC Fitness, BLUEPRINT, KIND Breakfast.
Friday (Mar 9) to Tuesday (Mar 12), 9 a.m. @ AMOA Arthouse @ Jones Center, 700 Congress Ave
BONUS #4
Cats Live Here Happy Hour
And if you like watching cat videos online (and srsly who doesn't), you're gonna like this one.
Animal Planet & the Walker Art Center bring you cat-themed cocktails, live music
 and a first look at the upcoming season of "My Cat From Hell." Plus, catch a sneak peek of the all-new "Henri" video!
Don't forget – What Happens At SXSW… Is Gonna Be All Over Twitter 😉