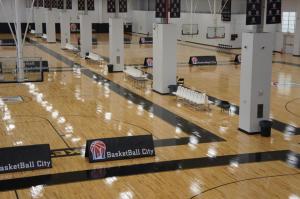 In January, news broke that the New Art Dealers Alliance (NADA) would move its New York fair from the former Dia Art Foundation building on West 22nd Street in Chelsea, where it held its inaugural edition last year, to Pier 36 at Basketball City, at 299 South Street along the East River, below Grand Street on the Lower East Side. Now, The Observer can reveal the exhibitors in its second edition, which runs May 10–12.
NADA New York, which once again runs concurrently with Frieze New York on Randall's Island, will feature 70 exhibitors, up from 60 last year. And, as with last year, New York leads the geographical breakdown, with more than a third of the exhibitors hailing from the five boroughs. Sixteen galleries are coming from Europe and the U.K., and the full roster is decidedly international with galleries from places like Puerto Rico and Estonia.
"It gives us a lot more room to breathe," NADA's director, Heather Hubbs, told The Observer, when asked about the fair's new venue. "It's a space we'll grow into." The hall has been home to a handful of events and concerts in recent months, like the All Tomorrow's Parties music festival. NADA will be the first fair to alight there.
Another benefit of the new location: "It gives a straight shot up to Randall's Island, which is nice," Ms. Hubbs said. "It's right by the entrance to the FDR." It's also just a very short walk from the Lower East Side gallery district, a stone's throw from some of the galleries that make up the southern edge of that area, like Abrons Arts Center, Bureau, Ramiken Crucible and Reena Spaulings.
The complete list of exhibitors follows below:
247365, Brooklyn
Alden Projects, New York
American Contemporary, New York
Art F City, Brooklyn
Nicelle Beauchene Gallery, New York
Bischoff Projects, Frankfurt, Germany
BLACKSTON, New York
Thomas Brambilla Gallery, Bergamo, Italy
Braverman Gallery, Tel Aviv, Israel
Brennan & Griffin, New York
Callicoon Fine Arts, New York
COLE, London
Lisa Cooley, New York
COOPER COLE, Toronto
COPE PROJECTS, New York
CHRISTOPHER CRESCENT, London
Churner and Churner, New York
Corbett vs. Dempsey, Chicago
DUVE Berlin, Berlin
Anat Ebgi, Los Angeles
Eleven Rivington, New York
Derek Eller Gallery, New York
Et Al., Oakland, Calif.
Daniel Faria Gallery, Toronto
Feature Inc., New York
Fitzroy Gallery, New York
Gavlak Gallery, Palm Beach, Flor.
The Green Gallery, Milwaukee
Green on Red Gallery, Dublin
Halsey McKay Gallery, East Hampton, N.Y.
Independent Curators International (ICI), New York
Interstate Projects, Brooklyn
Invisible-Exports, New York
Louis B. James, New York
Parisa Kind, Frankfurt, Germany
Know More Games, Brooklyn
Elaine Levy Project, Brussels
Patricia Low Contemporary Gstaad/St. Moritz, Gstaad, Switzerland
LOYAL, Malmö, Sweden
ltd los angeles, Los Angeles
KANSAS, New York
Nathalie Karg/Cumulus Studios, New York
Klaus von Nichtssagend Gallery, New York
Macaulay Fine Art, Vancouver, Canada
Marlborough Chelsea, New York
Martos Gallery, New York
M+B, Los Angeles
New Galerie, Paris
Newman Popiashvili Gallery, New York
Night Gallery, Los Angeles
On Stellar Rays, New York
David Petersen Gallery, Minneapolis
Eli Ping, New York
Queen's Nails, San Francisco
Rawson Projects, Brooklyn
Redling Fine Art, Los Angeles
REGINA REX, Queens, N.Y.
ribordy contemporary, Geneva
Petra Rinck Galerie, Düsseldorf, Germany
ROBERTO PARADISE, San Juan, Puerto Rico
SCHMIDT & HANDRUP, Cologne, Germany
Kerry Schuss, New York
SculptureCenter, Long Island City, N.Y.
SEVENTEEN, New York
Joe Sheftel Gallery, New York
Jacky Strenz, Frankfurt, Germany
Temnikova & Kasela, Tallinn, Estonia
Rachel Uffner, New York
Kate Werble Gallery, New York