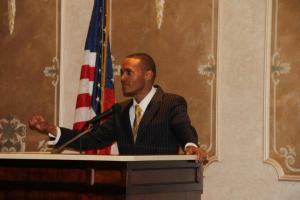 Although he won't beat the record of the man he's vying to replace, at 24 years old, Ritchie Torres would be one of the youngest members of City Council ever if he's elected later this year. And so far at least, it seems he's positioning himself well to do exactly that, raising $60,0000 in his latest filing and simultaneously announcing the endorsement of the Hotel Trades Council, a relatively small union known for punching above its weight.
"I am so appreciative for this critical endorsement. The Hotel Trades Council has one of the premier get out the vote operations in the state and I'm excited to have them on my team," Mr. Torres, a staffer for neighboring Councilman Jimmy Vacca, said in a statement. "HTCs endorsement is transformative for the race, and I look forward to working with them as the next Council Member from the 15th district.
Mr. Torres also recently collected the endorsements of 32BJ SEIU and UFCW, who represent property services and grocery store workers respectively. According to his campaign, "No other candidate in the race for the 15th district has yet to secure any support from organized labor."
He nevertheless faces a crowded field of rivals that includes attorney Raquel Batista, state committeewoman Yudelka Tapia and, notably, "Fake Joel Rivera," a candidate with a name identical to the veteran Bronx councilman whose seat is up for contention.
For his part, Councilman Rivera was just 22 years old when he was first elected.