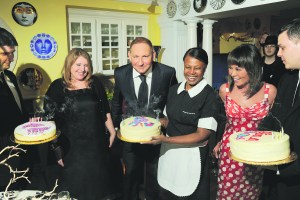 Last Thursday evening, the stars aligned—both metaphorically and astrologically—for a special party in a luxury Upper East Side townhouse. Estée Lauder's John Demsey, CNN's Alina Cho and the Marilyn Agency's Marilyn Gauthier—all close friends, and all Pisces—came together, as they've done for the past four years, to celebrate their March birthdays and their shared astrological sign.
There were warnings of a "life-threatening" snowstorm blaring from every television and radio in the Northeast, but that didn't stop the Transom. Armed with a parka and a copy of the daily horoscopes, we headed uptown to party with the three Pisces and, as Ms. Cho put it later, their "350 nearest and dearest."
When we entered Mr. Demsey's spectacular home around 6:15 p.m., things already seemed to be going, ahem, swimmingly. In the downstairs parlor, guests mingled around a table laden with fish-shaped candies and cookies. In one corner, a large flat-screen TV played a continuous loop of swimming goldfish. Drinks were flowing from an open bar, and hors d'oeuvres prepared by Cornelia Guest were delivered around the room by a staff that wove through the crowd like porpoises.
According to the horoscope we had in hand, Pisces had been destined to have "odd dreams" the night before. We caught up with Mr. Demsey, Ms. Cho and Ms. Gauthier to ask if their dreams had been strange.
"Only about what I was going to wear today," said Ms. Cho, who looked divine in a form-fitting orange dress and sky-high Louboutins.
"I wish sincerely, but no!" answered Ms. Gauthier. "I just arrived from Paris, so I had a really nice sleep. I was exhausted, so I didn't dream, unfortunately."
As for Mr. Demsey: "I have odd dreams every night."
And it must be true what they say, that Pisces are friendly, because it wasn't long before the partygoers on the first two floors were packed in like sardines. Amid the crowd, we spotted director James Signorelli, LeSportsac's Tim Schifter, fashion designers Rachel Roy and Prabal Gurung, makeup maven Bobbi Brown, PR superstar Robert Zimmerman and even the sensational Kelly Bensimon of The Real Housewives of New York.
"I'm a Capricorn, but tonight I'm a Pisces," said publishing powerhouse Jason Binn. "Everyone tonight wants to be a Pisces. You know why? Because look at all the cool people here."
A few minutes past 8 p.m., guests were summoned from the far reaches of Mr. Demsey's townhouse to gather in the parlor for the presentation of the birthday cakes—one for each Pisces.
But while everyone could have their cake—there was plenty to go around—not everyone would eat it too. We watched as a man offered slices to a trio of exquisite, tall, blond women. The middle one—the blondest of all—licked her lips and replied, "We're models."
We then spotted another impeccably clad woman pluck a bite-size pig-in-a-blanket off a waiter's tray. "I'm gonna have one of these," she said, somewhat shamefully, to her companion. And then, perhaps to justify things: "It's going to be my dinner."
Around 9 p.m., we said our goodbyes and left the comforts of Mr. Demsey's home. They say there are plenty of fish in the sea, but on this night there was nowhere else we'd have rather been.