Two of the most popular stars on YouTube are Ian Hecox and Anthony Padilla, a couple of overgrown teens with potty mouths and boy-band haircuts. You likely wouldn't recognize them in a lineup, but their YouTube channel, Smosh, has more subscribers—eight million-plus—than any other on the platform.
The Smosh boys have been churning out installments since 2005, and in any given video, you can tag along as the 25-year-olds bound wide-eyed through a world of their own pointless creation, hamming it up for the camera. And kids these days just love it.
"What's this?" Mr. Padilla says in a video posted late last month, titled "My Stupid Dying Grandpa!" "It's my stupid grandpa," Mr. Hecox replies, shoving his old relation through the kitchen on a gurney. "I have to take care of his dying ass."
Other videos include such gems as "Pokemon in Real Life!" (32 million views) and "Stuck in a Toilet!" (nearly 13 million views).
Shakespeare it is not. But recently, the pair hit two billion total views, a serious landmark that might just make them the bards of YouTube. And while being an Internet celebrity used to convey a sort of transient glory (which may or may not have come from a leaked sex tape), these dudes have established lasting sway within the 12-to-24 demographic.
When Smosh posts a video, its young fans take notice. What they likely don't notice, however, is the name of Ian and Anthony's corporate parent, the company behind the curtain: Alloy Digital.
"We seek to be the most important media company to the 12-to-34 demographic," said Alloy co-founder and CEO Matt Diamond.
At first blush, Mr. Diamond's stated goal may seem like an overreach. (After all, does an 12-year-old girl in pigtails really have the same interests as a bearded 33-year-old?) But his company is amassing an armada of highly targeted video-producing content businesses in an attempt to reach every young adult in America. If Smosh is YouTube's SNL, as Time once described the sketch-comedy show, then Alloy Digital aims to be the stitched-together equivalent of an MTV Networks or a Viacom. Just last week, Alloy announced a $30 million round of venture funding from the firm ABS Capital Partners to further that goal.
The Observer recently sat down with Mr. Diamond, a slight man who looks like there's probably a spreadsheet somewhere waiting for him, and some of the other Alloy Digital suits at the company's Chelsea headquarters. Joining us were TV vets Jordan Levin—formerly the head of WB and now President of Alloy Digital and CEO of Generate, Alloy's in-house studio and talent management firm—and Barry Blumberg, who once ran Walt Disney Television Animation and now oversees editorial strategy and video programming development as EVP for Alloy.
"A few years ago, if you wanted millions of people to watch something you created, you had to either have a movie or go through TV," Mr. Diamond said. "Today, you can create things, own it and distribute it directly."
Indeed, Mr. Blumberg, who carries himself with the rumpled polish of L.A., thinks he's doing the same things he did in the TV business, only more efficiently. "The thinner the veil between the creator and the audience, the more effective the programming," he said. "In this space, there's no veil. So when you find the right people, the right voices, the right programming, that audience is right there."
And Alloy is right there with them.
*
Alloy Digital represents the latest evolution for Alloy Inc., a company that started out in the direct marketing business in 1996 and seems to shed its skin with some regularity. An entire generation of women raised in the late '90s and early 2000s likely remember Alloy for its catalogs full of cheap, enviably cute clothing. In the mid-'00s, the company shifted gears, all but abandoning the catalogs and establishing Alloy Entertainment, through which it created and licensed young adult franchises like Gossip Girl, The Vampire Diaries and Pretty Little Liars.
Over the last two years, Alloy has changed tack once again, as a group of investors led by Strauss Zelnick acquired the publicly traded company in 2010 for $126.5 million and took it private. Freed from quarterly earnings releases, the company began beefing up Alloy Digital with a string of acquisitions: Smosh, in July 2011; Generate, in January 2012; B5Media, a suite of female-friendly sites like Crushable and The Gloss, last April; Clevver Media, an entertainment news brand, in June; and Escapist, a gaming site, in November.
Meanwhile, the company offloaded Alloy Entertainment. In June 2012, that particular branch of the business was sold to Warner Brothers—which already licensed much of the produced content anyway—for an undisclosed sum reportedly around the $100 million mark. "As a private company, we're able to sell off groups that were more mature, that frankly, as a public company, were more the image of the business," Mr. Diamond explained.
The company's current transformation is a reflection of both advancing technologies and the changing ways in which folks consume media, according to Mr. Diamond. He remembers looking at the metrics for Gossip Girl and seeing comparatively large numbers of online viewers. And even as shows like The Vampire Diaries and Pretty Little Liars succeeded, Mr. Diamond recalls that "we didn't have complete control over the intellectual property." Getting them on the air and making money meant licensing them out to channels like the CW or ABC Family.
Hence, the epiphany: "The need to always create and immediately license was over," said Mr. Diamond. "We could continue doing what we were doing, but just distribute it directly and control it more."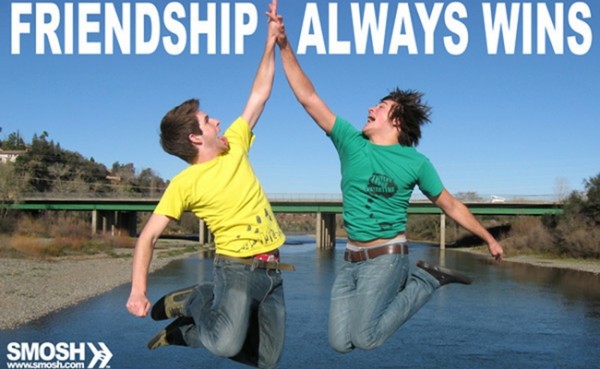 And the company found a perfect partner in Smosh. Since its acquisition by Alloy in 2011, the property has been growing like a weed, and now serves as an effective model for the rest of the Alloy-verse of entities that are attempting to corner their respective markets.
As Mr. Diamond put it, "There isn't anyone in the 12-to-34 demo that we don't reach."
While Smosh and its spinoff channels skew younger and male, for instance, the five series under the Clevver moniker hit a young audience that's primarily female. "We have teams on each of those channels that are set up to be on camera five minutes after something's happened and to be first in the marketplace," Mr. Blumberg said in regard to Clevver.
The company is still building out video strategies for more "nascent" brands. An old Alloy property known as gURL.com is playing with things like "Ask a Naked Guy." The Gloss just launched "Wed Bed Dead," an advertiser-friendly version of the old game Marry/Fuck/Kill. Most of the company's B5 properties—which include Crushable, Mommyish and Blisstree—appeal to an older female audience (18 to 34), while Alloy's most recent acquisition, Escapist, reaches men of the same age.
There's also a whole network of thousands of sites, from DailyMail.co.uk to YourTango, through which Alloy can distribute its content and sell ads against it. According to comScore, the network's reach exceeds 90 million consumers. "That really does enable us to get our content out there en masse," said Mr. Diamond.
And don't forget that $30 million injection, which will help Alloy extend its reach even further. Mr. Diamond said there's nothing in particular on his shopping list, other than whatever starts to look hot: "We say, 'That's interesting, that's a niche someone has identified in this demographic'—skating, you know," he said.
All of which brings us to the all-important monetization piece of the puzzle, the way in which Alloy will attempt to turn its third act into yet another success story. While Mr. Diamond said that Alloy intends to capitalize on its brands six ways from Sunday—the company has recently built out an apps team that plans to roll out a series of Smosh apps over the year (starting with Super Head Esploder X, which hit the app store two weeks ago and quickly made the ranks of top paid apps), and merchandise is another could-be cash cow—the biggest moneymaker is still ad sales. But even there, Alloy is playing by its own rules.
"You want to meet the advertisers' needs," said Mr. Diamond, going on to explain how his company accommodates clients by doing anything from selling them pre-roll video ads to creating longer-form branded content.
"What happens more often than not is that an advertiser comes to us with a particular need in an area that they want to work in; we have a slate of programming that we've developed that either fits or we develop something specifically for them," explained Mr. Blumberg.
Take, for example, the recent promotion that Smosh did for Ubisoft's game Assassin's Creed. Ubisoft requested something along the same lines as a particular previous hit. They got a music video, just like any other Smosh production, featuring lyrics like, "How many fools can I kill today? Too many to count, don't get in my way." It garnered more than 28 million views, and nary a comment about selling out.
Alternatively, branded content might look like "Dating Rules from My Future Self," a show delivered in short installments that ran on Alloy's network and Hulu*, that's sponsored by Ford Eclipse and Schick's Quattro for Women. It tracks the travails of a young woman, with her razors and her Ford Eclipse positioned in the foreground as much as possible.
The members of the content creation team don't spend their every moment thinking about what advertisers might like, according to Mr. Diamond. "In fact, it's the last thing I'm sure they think of," he said. They're focused on what's going to be popular. At the same time, "it's not like we're interested in creating a channel that is R-rated that no advertiser would want. That doesn't do us any good."
And yet gaining popularity doesn't inherently mean gaining recognition.
"We were talking about how the number for the premiere of Girls was 800,000, 850,000 people on a Sunday," said Mr. Levin, sounding slightly miffed. "The Smosh video's doing more than that. But I think an older audience feels like, well, Girls is what young people are watching."
"Despite the fact that Smosh is by far and away the most popular male show of any medium, it won't get nearly the ad dollars that a top show on television would," admitted Mr. Diamond. On the bright side, the production and distribution are far cheaper. And Alloy is going all-in on the notion that, eventually, ad dollars will follow viewers online.
"Analog distribution vehicles still dominate the world, and we are not unmindful of that," said investor Strauss Zelnick. The trick is to close the gap between footprint and revenue. "The opportunity is huge," he continued, "and Alloy Digital is a great start."
*This article originally stated that "Dating Rules from My Future Self" was Hulu only, when in fact Hulu simply had a short one-day exclusive, then the show ran on Alloy's network. Betabeat regrets the error.