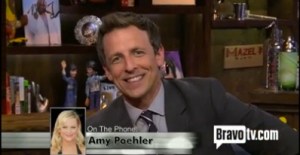 Ha ha. Love this. It's not even technically a "prank," so much as a very good method for finding out what former co-workers really thought about you. All you do is wait until they are on a nationally syndicated program, and then call up the show pretending to be someone named "Coco" from "New Hampshire." You don't even have to mask your voice!

Then you can ask them what it was like working with you (their former colleague), and they will be forced to say the absolute truth, lulled into a false sense of security by the thought that you (former co-worker) is not only not tuning into this nationally syndicated program, but could in no way be the caller yourself.
Pro tip: Do not do this on Andy Cohen's Watch What Happens Live, because that man either has Caller ID flashing on his teleprompter or has memorized the voices of everyone on television. Probably the latter.
[protected-iframe id="a103c866fecad130f8c32a24aea518a0-35584880-38574832″ info="http://www.bravotv.com/video/embed/?/_vid2629166″ width="400″ height="225″ frameborder="0″ scrolling="no"]
We love you, Amy Poehler. We love you, Seth Meyers. We are kind of mad at you, Andy Cohen, for not letting this joke play out a little longer, but we love you too. And let us just say, we are really looking forward to when Shia Lebeouf tries this on Alec Baldwin next month.