A little over a week ago we noticed that James Franco–currently starring in Oz: The Great and Powerful, an autobiographical look at the actor's life as a con man who lies about his accomplishments and convinces a lot of other people to do work for him so he can take credit for it–had started reading Teddy Wayne's tremendous book about a tween celebrity, The Love Song of Jonny Valentine. Of course, being James Franco (note to James Franco: please title your next movie that), he couldn't just post a picture of himself reading the book, so he added a little puppet friend to help him out.
Now, half a month later, Mr. Franco may have finished the book, but his little buddy hasn't. And now his buddy has his own buddy … a doll that looks like it came off the set of his other documentary, Kink.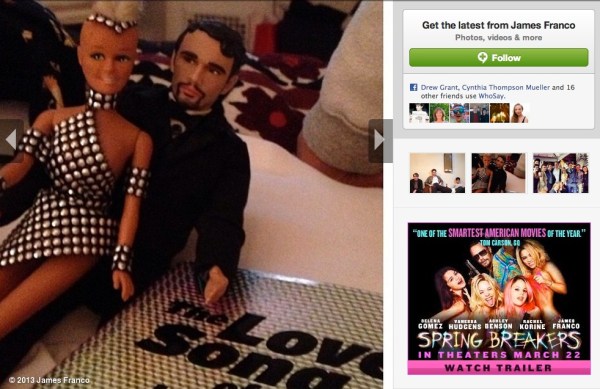 It must be great to have all that free time to play dress up with dolls and arrange them in interesting ménages while still somehow managing to support the entire American art industry simply by existing.