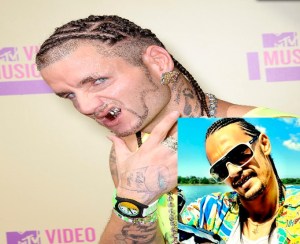 Last week, The Observer reported on a potential feud brewing between Nascar Grand Marshal James Franco and RiFF RaFF, a Texas-based rapper who had claimed that the role of Alien in Spring Breakers was originally offered to him, though he was later offered a smaller role as part of the character's posse. Franco not only disagreed, but claimed to not have even used RiFF RaFF as a major inspiration for the part, despite striking similarities in grooming and wardrobe.
Today the artist currently under Diplo's label and working on an album called NEON iCon responded to our requests to clarify the situation.

"Harmony Korine emailed me, i was gunna play alongside James Franco," RiFF RaFF wrote to The Observer from Amsterdam, where he's been for four days. "He said the Movie has my Energy."
The rapper, who appeared on the cover of Sneeze magazine with Mr. Korine in October, isn't able to recall if they discussed the movie, saying "we are friends we talk about random shit … it's not always about Spring breakers." However, even that
Sneeze profile highlighted the tug-of-war over Alien's ownership:
Harmony's cornrow-beaded drug dealer character, "Alien," resembles RiFF RAFF. With "RiFFmony" being spotted trying to dunk on West Hollywood's public courts, James-Franco-to-play-RiFF-RAFF headlines ensued. Not true. Alien, says Franco for the hundredth time, was inspired by a "panache" of southern rappers prior to RiFF entering Harmony's world. If anything, RiFF was slated to be part of Alien's "posse" but that didn't pan out. What's to follow doesn't clarify much about the Spring Breakers mystery (Gucci Mane is in it, too). It does, however, identify RiFF's flavor of Bill Cosby Pudding Pops and confirm Harmony's basketball skills.
RiFF RaFF did admit that he was never approached by James Franco, nor has he ever been in contact with the actor. Still:
Ask FRANCO who his image was based on ? He always deflects the question and says "the character isn't based on RiFF RaFF…" Ask him who his image was taken from
Point out another famous white artist/rapper with braids, beads, loud bright color clothes, Texas Accent, gold jewelry, Name another person ever in the world who EVER did it like me ???? I Rest My Case … It's a No brainer Here Folks
Well, Franco did claim that the role of Alien was based mostly on Dangeruss, who did have a cameo in the film and with whom Franco had collaborated with for a separate project while prepping for the role. (RiFF RaFF maintains he wasn't able to be in the film because he wasn't able to work within the tight shooting schedule.) However, it's true that the sartorial choices are way more RiFF RaFF than Dangeruss, who prefers less flashy clothes. And look, all the way back in March, RiFF RaFF was still feeling good about the whole situation, telling Fuse.TV:
"Even though I couldn't be a part of this project, I'm still glad that James Franco could play the role of me," he said. "That's like if Denzel Washington was playing the role of O.J. Simpson. Even though it's not O.J. Simpson, O.J. Simpson still gotta be like, 'Denzel Washington is playing me.'"
There does seem to be some wires crossed here, with Franco thinking that he was making up the role based on whomever he felt fit the character, and Mr. Korine's friendship with RiFF RaFF obviously inspiring at least the wardrobe choice.
Of the film, which RiFF RaFF has seen, he has only positive things to say: "Yea i saw it its a good movie," he told The Observer. "Can't wait for the movie to come out #RapGameJamesFranco #SpringBreakers."