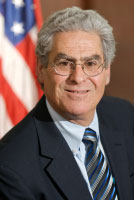 Republican Assemblyman Steve Katz is due to appear in court later this month after he was arrested for marijuana possession following a traffic stop on the New York State Thruway yesterday morning. According to the New York State Police, who amusingly spell marijuana with an "H," when Mr. Katz was stopped for speeding the trooper smelled the drug in his car and subsequently found him to be in "possession of a small bag of marihuana."
Mr. Katz was not handcuffed and was immediately released after his arrest, but he is due back in court March 28. Mr. Katz represents parts of Westchester, Putnam and Dutchess counties. Last year, he mounted a memorable, unsuccessful campaign for the state senate seat occupied by his former friend Greg Ball.
As of this writing, Mr. Katz has not responded to a request to comment on this story. However, his wife Nicole posted an intriguing update on her Facebook page after the news broke this morning.
"I need a vacation!" she wrote.
Update: Mr. Katz released a statement this afternoon acknowledging the situation.
"In light of the unfortunate incident that occurred, I am compelled to address it briefly. First, I will not let this incident impede my public service and my calls for real mandate relief, a better economic climate and better services for those in need in New York," said Mr. Katz. "This should not overshadow the work I have done over the years for the public and my constituency. I am confident that once the facts are presented that this will quickly be put to rest."