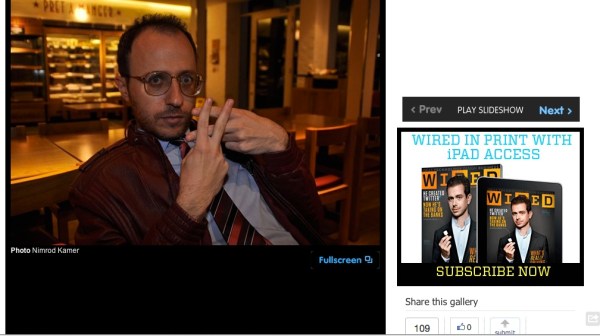 Yesterday we shed some doubt over whether social media satirist Nimrod Kamer's "finger hashtag" story for Wired.uk was for real. Today, we got our answer.
Update: Or not!

In an email to The Observer, Mr. Kamer confessed to the prank when we asked if he had "made up the trend."
Correction: The full text of our email to Mr. Kamer read, "I see that's getting a lot of pick-up. Is it satirical? Did you make up the trend?"
His response:
Completely.

Feel free to follow up. It did happen for the first time in london fashion week.

I tried it a bit here…
The link brings us to this Vice video, where Mr. Kamer tried to convince the Sartorialist to join in on his made-up trend, but mostly just gets kicked out of department stores.
[youtube http://www.youtube.com/watch?v=OO9BcpEuIqo&w=560&h=315]
Update: Mr. Kamer emailed The Observer, writing that his response of "completely" was in reference to the amount of pick-up the article received: "To the first part I answered 'completely', as in completely getting picked-up, before telling u in so many words, that it was invented in London Fashion Week by others," clarified Mr. Nimrod. "And even before that like in this Guardian piece -that dates back way before my Sartorialist film. I did push it myself obvs, but did not invent it."
Which is a fair point, one that we made in our original article: Mr. Kamer did not invent the faux-trend of making a finger-hashtag symbol, because both the Guardian and Gizmodo had written blurbs about it last August. However, Mr. Kamer's article on Wired was clearly meant as a spoof, and not as actual news. Mr. Kramer also claims that the photos in the gallery were taken during Fashion Week, "regardless of me. There was day one that everyone was doing it to everyone and I asked them to take photos."
So as it stands: Finger hashtagging might still be a real thing, according to media prankster and one how-to guide from the Guardian.